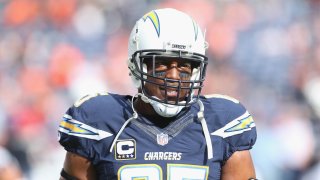 The iconic career of Chargers tight end Antonio Gates came to an end on Tuesday, with a statement announcing his decision to step away from the game for good.
"After 16 seasons in the NFL, 16 seasons as a Charger, eight Pro Bowl appearances and many records were broken, I find it hard to officially put this statement out and retire from the game of football," said Gates.
 
Gates finished his career with the most receptions (955), most receiving yards (11,841), and most touchdowns (116) in franchise history. The touchdowns record isn't just a franchise record, but the most in NFL history for a tight end. His 21 multi-touchdown games is also tops in league history.
 
On January 1st, 2017 the Chargers played their final game in San Diego against the Kansas City Chiefs. In the second quarter, Philip Rivers faked a handoff to running back Braden Oliver found Antonio Gates, who ran and tried to jump over Eric Berry stretched out and got the touchdown to tie the record of Hall of Famer Tony Gonzalez. In the 4th quarter, the Chargers got close again. Everyone in the stadium was standing waiting to see Gates break the record. Three straight tries by Rivers and he couldn't find Gates. On 4th down, he found Hunter Henry in the end zone.
 
He eventually broke the record in week three of the 2017 season when Rivers found Gates in the end zone against the Miami Dolphins. Gates was then tackled by his teammates in celebration.
 
The player he had the most connection with was his quarterback. Rivers spent 15 of those seasons with Gates as a teammate and 13 of them as his quarterback.
 
"I remember like it was yesterday, the very first touchdown pass I threw him in Oakland in 2006," Rivers said. "We only threw 11 passes that day, and he wasn't quite as happy as I was after that TD. Who would've thought that many years later we would have the most touchdowns ever between a quarterback and tight end? I could go on and on about the memories from practice, games, the huddle, the sideline, the subtle in-game glances, the 'Come on now' as we broke the huddle which meant, 'Throw me the ball!' He was so hard to cover that we had a 'Gates Rule' in the QB room. We would talk through the reads and the plays and they all had a 'Gates Rule.' It pretty much meant, if he is one-on-one, throw it there."
 
After throwing that one, Rivers and Gates went on to connect on 88 more. Their 89 touchdowns is the most by a quarterback/tight end duo in NFL history.

 
Gates wasn't supposed to be an NFL great though. He was a standout football and basketball player in high school. He decided to go the basketball route and was able to take Kent State to the Elite Eight as a tenth seed. He was then told by scouts they didn't know if he could make it to the NBA only being 6'4 and a power forward.
He decided to try out for NFL scouts. It was said that 19 teams wanted to have him in for a tryout. He tried out first for the San Diego Chargers and never left. They signed him.
 
Best decision both ever made.
 
His leadership was a big part of his game. He always reached out to younger players to make sure if they had any questions he could answer them.
 
"When I came in, it can be an intimidating thing when you come into that situation — a Hall of Famer, first ballot, and one of the greatest tight ends of all time [playing with you]. So, it can be intimidating, but he took me under his wing and taught me everything he could these past two years," said Hunter Henry.
 
When Henry tore his ACL in 2018, the Chargers signed Gates. He helped as much as he could with 28 receptions for 333 yards and two touchdowns. For younger players, it just meant another year they could pick Gates' brain. Henry said Gates would always take the time to help him break down film.
 
Another player he made a huge impact on was receiver Keenan Allen, who tweeted out a picture alongside Gates and Rivers with the caption "brothers." Allen said going into the workouts of 2018 that not having Gates would be weird because he sees him as a big brother.  
 
"You always had that swagger and confidence that couldn't be touched and I always loved that about you. The way you approach the game/practice everyday was special. Showed me what it meant to be a PRO! What a start to your life and I hope your next chapter is even better big bro!" tweeted out receiver Keenan Allen.
 
The Chargers tweeted out video messages from some of Gates' former teammates, who congratulated him and told him how much they loved him.
 
As for his post-retirement plans, Gates will still be spending time around the team.
 
"I am grateful that I will still be lending my services to the Chargers organization – just now in a completely different capacity through the team's community engagement initiatives and public-facing events."
 
The record-breaking tight end will be eligible to enter the Pro Football Hall of Fame in 2023.