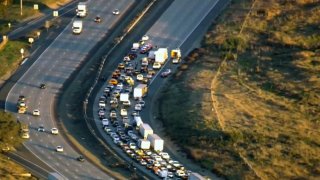 Drivers in San Diego's North County experienced major delays along Interstate 5 throughout Friday after a pedestrian was struck and killed during the early morning commute.
The California Highway Patrol said an unidentified person had gotten out of a car that had stopped on the freeway. That person then tried to cross the lanes, on foot, just before 6:30 a.m. and was hit by cars traveling along the northbound I-5 near the Aliso Creek Rest Area.
Preliminary reports said several vehicles were involved in the collision with the pedestrian.
No other injuries were immediately reported. The pedestrian's name has not yet been released.
All four lanes were initially shut down, according to CHP Officer Mark Latulippe. A half-hour later, CHP officers reopened one lane, and SkyRanger 7 captured images of bumper-to-bumper traffic.
By 11 a.m., two of the four lanes were opened. All lanes were reopened by noon Friday; although, delays in the area stretched as far south as State Route 78.
Latulippe said crews performed an extensive clean-up along the impacted area of the freeway.
The deadly crash is under investigation. No further updates have been released.