Class is back in session for hundreds of students Tuesday after the devastating Lilac Fire tore through North County, prompting school closures and thousands of evacuations.
Less than a month ago, a wildfire sparked amid extreme fire weather conditions in an area of dry, heavy brush in Bonsall and rapidly spread to a 4,100-acre blaze. Many students, staff and parents are now welcoming the return to normalcy and routine as four schools reopen.
"I can still remember coming to pick her up that day and seeing the embers and smoke," Josephine Kaimulla said, a mother taking her daughter back to school for the first time since they lost everything in the fire. "It was definitely scary when I got here, so it's nice to see the smiles."
Your Pics: Lilac Fire
Principal of Sullivan Middle School Joseph Clevenger said teachers weren't able to access classrooms because of damage, debris and soot.
"We have eight students who lost their homes. That is so difficult. We've already reached out to those students and families to provide support," Clevenger said. "And those services will start now and be ongoing."
The fire damaged Sullivan Middle School's Multipurpose Room. Clevenger said it will be a few weeks before repairs are complete. Phone lines also remain down, as AT&T works to fix them.
There were three other schools that reopened Tuesday, including Bonsall Preschool and Elementary Schools and Bonsall High School.
Principal of Bonsall High School, Lee Fleming, said the community's response to the fire was quick. Within a few days, three U-Haul trailers were filled with donations, including thousands of dollars in gift cards.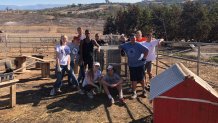 A math teacher at Bonsall High School, Cindy Edge, lost part of her farm and a shed with all of her life possessions in the fire, Fleming said. When word spread about the damages, the community rallied to help her.
In one weekend, dozens of students, teachers and parents came over to help her clean up and rebuild the place.
"It really makes me believe that the children in our school are fantastic people and have the ability to get together and to help a community person," Edge said. "And I feel so fortunate and special that they felt I was important enough to take their Saturday and come help me out."
When students visited their teacher, they had an opportunity to see the direct impact of the fire, Fleming explained. Even some of their teacher's silverware had been melted down to little pools and her plants were burned.
"Seeing that raised the level of understanding between teacher and student. And I think everyone's excited to come back and be together," Fleming said. "We canceled school because we had to. We didn't want to."