Less than 24 hours after the deadliest shooting in U.S. history, hundreds of people gathered in Hillcrest Sunday evening to memorialize the people who lost their lives and to just be together in solidarity.
The Hillcrest pride flag and the American flag, both at half-staff, loomed over the somber ceremony as people sang, prayed and comforted.
A larger police presence kept a silent but notable watch over the vigil as people honored the victims nearly 2,500 miles away.
Starting at 2 a.m. Sunday, gunshots rang out in a popular gay night club in Orlando.
At least 50 people lost their lives, and more than 50 others are now in the hospital.
"Any hate crime in general is a hate crime against all of us as a society and as humanity," Sabrina Duong said at the vigil.
"We will never, ever give in...to that type of hate," Mayor Kevin Fauconer said in front of the crowd. "We are all Orlando tonight."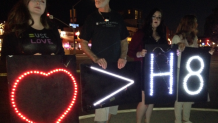 Dr. Delores A. Jacobs, chief executive officer of The San Diego LGBT Community Center, wrote a statement in reaction to the shooting Sunday. It reads, in part:
"We are simply devastated at the news of this horrific loss of life in Orlando. Unfortunately, our LGBT community is far too familiar with violence. This shooting during LGBT Pride month is now the deadliest mass shooting in United States history."
"Our hearts, thoughts and prayers go out to the victims and their friends and families. This weekend, and over the coming days, our community around the country will hold vigils and other commemorations of support, solidarity and strength."
Monday night a #OrlandoStrong rally is scheduled at the San Diego LGBT Community Center at 3909 Centre Street at 6:30 p.m. followed by a candlelight vigil.
The center offers counseling services through its Behavioral Health Services program. People who need to speak with an on-duty counselor or would like to request an appointment should email onduty@thecentersd.org or call (619) 692-2077, ext. 208.