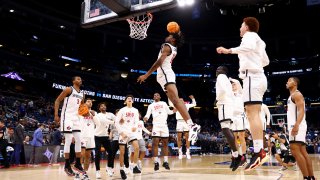 San Diego State is always going to play suffocating defense. The question is whether or not they'll shoot the ball well. When they do, they can beat just about anyone in the country.
Furman saw that first hand on Saturday.
The Aztecs blasted the Paladins 75-52 to advance to the Sweet 16 of the NCAA Tournament for the third time in program history and the first time since 2014. They did it by frustrating another high-scoring team. In the tournament opener the Aztecs held College of Charleston, a team that averaged 80 points a game, to 57 points. They were even better on Saturday against another school from South Carolina.
Furman came into the game averaging 82 points a game, making them the 9th-best scoring team in the nation. But, in the Southern Conference they never saw a team that defends like SDSU.
The Paladins hit a free throw to take a 17-15 lead. They didn't get another point for the next seven minutes as the Aztecs put together a 15-0 run and once they had control they didn't let it go. Furman went nearly 11 minutes without making a field goal, scoring their only points from the free throw line and watching the Aztecs take a 39-25 halftime lead. Junior Micah Parrish was a huge part of that success, scoring 14 points in the first half.
That was just an appetizer.
After the break Darrion Trammell heated up, burying a trio of 3-pointers. Fellow senior Adam Seiko made a layup to push the lead to 21. Senior center Nathan Mensah hit a tough reverse layup with 6:35 to play that pushed the lead to 67-44. The game got so out of hand that head coach Brian Dutcher was able to empty his bench for the final minute, giving the walk-ons some much deserved March Madness playing time.
This is as far as the Aztecs have ever gotten in the NCAA Tournament. To reach their first Elite Eight they'll have to beat the winner of the Maryland vs. Alabama game in the regional semifinal next week in Louisville. Win that and SDSU will be just one win away from their first trip to the Final Four.