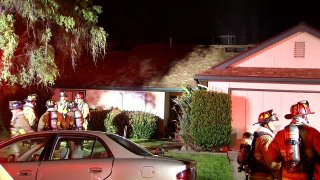 A house fire started in Lake Murray on Saturday night, the San Diego Fire-Rescue Department said.
Crews responded to the fire around 8:40 p.m. at a home on the 8000 block of June Lake Drive, near the San Carlos Recreation Center.
"There were flames coming out of the house that I could see from seven houses down," neighbor Brian told NBC 7. "They got the family out, they're sitting on the wall."
"The house has been sketchy for quite some time," Brian claimed. "The cops get called all the time down here for one problem or another."
As of 9 p.m., 46 personnel had been assigned to the fire. Heartland Fire and Rescue also responded to the fire.
No other information was available.
Please refresh this page for updates on this story. Details may change as more information becomes available.