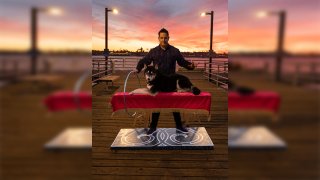 Houdini the Husky will be having a magical life after finding his forever home with a Las Vegas headlining magician.
Steve Wyrick, Houdini's new owner, said he had been looking at animal shelters to find a dog but had not yet settled on one. Then he came upon an article online about Houdini, and it just clicked with him.
"We sometimes forget that our imperfections are the very things that make us special," said Wyrick. "In Houdini's case, the seven different families that returned him to the shelter had various reasons why he wasn't a perfect fit. Animal Services of San Diego shared with me a list of those reasons. What I discovered were the traits that made him challenging to some, in fact, made him so special to me."
Houdini has been at the San Diego County Department of Animal Services shelter in Carlsbad for more than a year.
Animal Services staff sorted through more than a hundred interested applicants for Houdini, 3, who earned his name for being an escape artist at some of his previous adopter homes, before making a decision.
"Apparently, he likes to escape from things, and I've been escaping from handcuffs and hanging boxes for years. Maybe he can teach me a few new tricks!" Wyrick said.
Wyrick doesn't plan on putting Houdini in his show and is just looking for a personal companion. Wyrick has hired a dog trainer to help him work out some of Houdini's behavioral issues and plans to run with him to keep him active.
Wyrick said Houdini's eighth home will be his forever home.
"The number eight is associated with infinity and infinite love. Now, he's going to have a magical life," Wyrick said. "I hope this inspires everyone to visit their local shelter and consider adopting a best friend. There are some amazing animals that need to be rescued and given a second chance, and a third, fourth, fifth, sixth, seventh, and an eighth chance."
Those interested in adopting dogs or cats— or any of Animal Services other pets on their website — can complete an adoption application, available here, and submit it by email to DASInfo@sdcounty.ca.gov, or call Animal Services to set an appointment at (619) 767-2675.
Due to COVID-19 precautions, animal services is offering touchless adoptions.