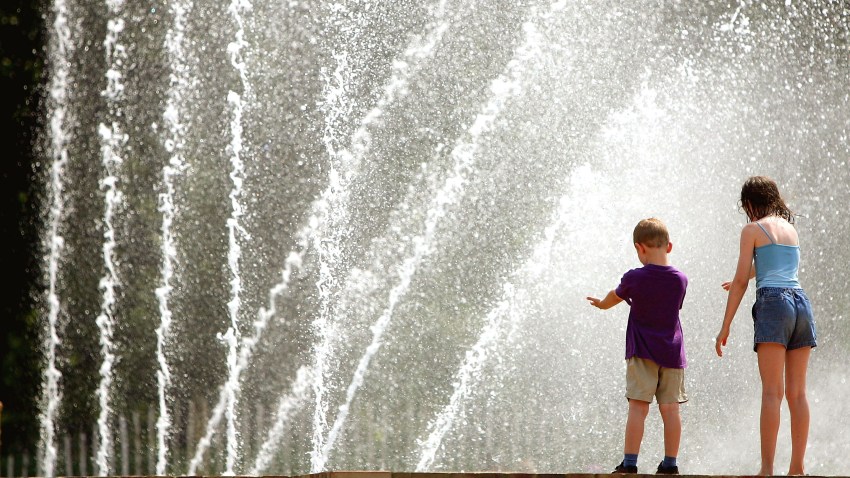 Mother Nature again proved her dominance over high-tech weather computers. Saturday was supposed to be a little cooler than the preceding record breaking four days of intense heat; instead it turned out to be the hottest day yet overall.
Count 'em: 17 communities hit 100 degrees or higher yesterday - and that doesn't even include Borrego Springs' 112. Places like Kearny Mesa, Lemon Grove, Miramar MCAS, San Marcos and La Mesa joined the hot-spots like El Cajon, Esondido, Fallbrook, Ramona and, of course, the Wild Animal Park, which again took top honors (west of the mountains) at 109.
On Thursday, 14 places in the county were in triple digits and, while Friday was predicted to be even hotter, it turned cooler by a few degrees. Noting this, the computers got on board and in subsequent model-runs they called for slightly lower temperatures on Saturday. Apparently Mother Nature wasn't listening or she just decided to be difficult because, not only was the mercury well above 100 in more places, "MN" decided to throw in a little extra humidity adding insult to injury.
By late morning, abundant high clouds were moving across the county indicating the return of the monsoonal moisture out of Mexico. So, not only was yesterday the hottest of the current heat wave it was also the muggiest.
There is some good news - the high pressure should start breaking down today. We're expecting only a few of the hottest locals to be in triple digits this afternoon and most places should be 4-7 degrees cooler than yesterday; that is unless "Mother" decides to be contrary again.
How hot was it yesterday in your neighborhood? Take a look at the numbers from the National Weather Service:
: ...COASTAL AREAS...
:
L34 : * OCEANSIDE HARBOR 10 : M / M / M /
OKB : OCEANSIDE AIRPORT 28 : 88 / 59 / 0.00 /
VSTC1: * VISTA 330 : 100 / 67 / 0.00 /
CRQ : CARLSBAD AIRPORT 328 : 91 / 68 / 0.00 /
SDETS: ENCINITAS 270 : 94 / 64 / 0.00 /
SOL : SOLANA BEACH 75 : 83 / 68 / 0.00 /
DMRC1: * DEL MAR 100 : 84 / 66 / 0.00 /
NKX : MIRAMAR 477 : 102 / 66 / 0.00 /
MYF : MONTGOMERY FIELD 420 : 105 / 72 / 0.00 /
SWDC1: SEA WORLD SAN DIEGO 10 : 81 / 67 / 0.00 /
SAN : SAN DIEGO 15 : 88 / 70 / 0.00 /
CDOC1: * CORONADO 25 : 87 / 71 / 0.00 /
L13 : CABRILLO NATL MNMT 364 : 88 / 69 / 0.00 /
SDNAC NATIONAL CITY 25 : 92 / 69 / 0.00 /
CVAC1: * CHULA VISTA 56 : 94 / 66 / 0.00 /
IPLC1: * IMPERIAL BEACH 22 : 83 / 62 / 0.00 /
SDM : BROWN FIELD 525 : 98 / 67 / 0.00 /
:
: ...INLAND AREAS...

SDFBK: FALLBROOK 698 : 101 / 69 / 0.00 /
SDSMP: SAN MARCOS 630 : 101 / 70 / 0.00 /
SDESN: * ESCONDIDO 600 : 103 / 77 / 0.00 /
ASCC1: * WILD ANIMAL PARK 420 : 109 / 59 / 0.00 /
RNM : RAMONA AIRPORT 1393 : 105 / 62 / 0.00 /
SGX : RANCHO BERNARDO 690 : 100 / 67 / 0.00 /
POWC1: * POWAY 648 : 106 / 64 / 0.00 /
ALPC1: * ALPINE 1695 : 104 / 73 / 0.00 /
SDLAM: LA MESA 500 : 101 / 72 / 0.00 /
SNTC1: SANTEE 340 : 105 / 66 / 0.00 /
ELJC1: * EL CAJON 405 : 107 / 65 / 0.00 /
SPVC1: * SPRING VALLEY 270 : M / M / M /
LMGC1: * LEMON GROVE 427 : 101 / 66 / 0.00 /
:
: ...MOUNTAIN AREAS...
:
PLRC1: * PALOMAR MOUNTAIN 5550 : 92 / 73 / 0.00 /
JULC1: JULIAN 4240 : 96 / 74 / 0.00 /
MLNC1: * MOUNT LAGUNA 5920 : M / M / M /
CZZ : * CAMPO COOP 2615 : 106 / 56 / 0.00 /

:
: ...DESERT AREAS...
:
BROC1: BORREGO 805 : 115 / 83 / 0.00 /