Sharp Grossmont Hospital secretly recorded women giving birth and undergoing other surgical procedures in an effort to catch an alleged anesthesia drug thief.
It's a story first brought to light by our media partner, inewsource.org.
The hospital declined an interview request, but said via a written statement that it is "very sorry that this error occurred and that the privacy of these patients was breached."
The story has raised concerns about patient privacy and rights among moms who gave birth at Sharp Grossmont. The video surveillance was conducted inside operating rooms in the Sharp Grossmont Hospital's Women Health Center between July 2012 and June 2013, according to court records.
"It concerns me that they did not inform the mothers at the time," said patient Tara Meade. "I would have appreciated to have known ahead of time and being asked for my consent."
The attorney of the doctor accused of stealing the anesthesia drugs said the "shocking" drug surveillance program was overreaching, unnecessary and it violated the privacy rights of hundreds of patients.
"They recorded every single surgery from July of 2012 through the end of June 2013. Every surgery in all three centers in the Women's Center at Sharp Grossmont in La Mesa, every single one of them. I believe every one of those women's constitutional rights were violated and every one of them would have a case against Sharp," said Attorney Duane Admire.
Court records show Sharp Grossmont officials began suspecting someone was stealing anesthesia drugs from surgery carts in May 2012.
In July 2012, the hospital installed surveillance video cameras inside the Women's Health Center operating rooms where babies are delivered via C-section.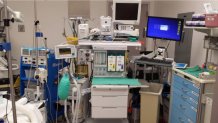 It's also where women undergo other procedures, such as tubal ligations and hysterectomies.
Patients were not notified about the secret cameras.
The hospital says in court paperwork that the surveillance camera picked up one of its doctors removing drugs from operating room drug carts several times between September 14, 2012 and April 2013.
During the same seven month time frame, the hospital also recorded hundreds of patients while they were undergoing surgery, according to Sharp's own declarations in court.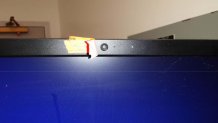 Hospital officials accidently gave some of the videos over to an attorney representing the doctor accused of taking the drugs.
One mom who had her baby at Sharp Grossmont during the time when cameras were installed told NBC 7 she wishes she had known.
"I would hope they would situate the cameras in a way that would strictly focus on the anesthesia and not focus on the mothers and their new babies, especially if they didn't know it was happening," said Meade, who had her son Sept. 14, 2012.
Admire stressed his client is innocent and that the hospital went too far in collecting evidence against his client, violating patient rights in the process.
"If you have an expectation of privacy, a reasonable expectation, then you can't be secretly recorded," Admire said. "Certainly when would you have more of an expectation of privacy than when you are with your doctor, undressed and exposed?"
A Sharp Grossmont spokesman declined interview requests all week, citing the pending legal matter of Admire's client's alleged drug theft.
In lieu of an interview with an NBC 7 reporter, the hospital wrote its own questions and answered them in a released statement, which can be seen in full here.
In response to follow up questions, the hospital also released the following statement Thursday:
"In connection with recent publicity about a complaint by the California Medical Board against Dr. Adam Dorin related to events that occurred at Sharp Grossmont Hospital in 2012-2013, it recently came to our attention that Sharp, in response to Dr. Dorin's attorney's (Mr. Duane Admire) request for evidentiary material, mistakenly provided Mr. Admire with video clips that included patients in the operating room.
This was brought to our attention when we learned that Mr. Admire stated he viewed several clips that included patients within them. At our request, Mr. Admire returned that material to us on Tuesday, May 10. We have confirmed the information we provided to Mr. Admire did have 14 clips that included patients within them. Our intention was to send the attorney only the same video clips that were sent to the California Medical Board in January 2014 that contained no video of patients.
We are in the process of performing a detailed review of the clips and matching them to the surgery schedule to identify the patients that were included in these clips. Once we have identified the patients we will notify them as soon as possible. This is a top priority that we hope to have completed by early next week. We are very sorry that this error occurred and that the privacy of these patients was breached."