San Diego Hooters have placed signs in their restaurants saying Mayor Bob Filner will not be served in their establishment.

"It's localized to our four San Diego locations," said Melissa Fry, director of marketing for Hootwinc LLC.
The signs appear in Rancho Bernardo, Oceanside, Gaslamp and Mission Valley restaurants.
Hooters tweeted, "Our Hooters Girls in San Diego have spoken. Not a corporate gig, but we support our girls. #StepIntoAwesome"

Various tweets posted by San Diegans showed signs inside Hooters that said:
"This establishment recognizes that we all have political differences and we serve people all walks of life. We also believe it is imperative for people to have standards. The Mayor of San Diego will not be served in this establishment. We believe women should be treated with respect."

The sign first appeared on the Twitter feed of Francis Barraza, executive director of the Republican Party of San Diego.

"My local @hooters won't serve Bob #Filner. #stepintoawesome #respect #lunch," Barraza tweeted.

Stephen Puetz, chief of staff for City Councilmember Kevin Faulconer, replied with a picture of Hooters waitresses (below) saying, "apparently #hooters didn't think your picture was good enough."

The sign was created by Glenn Beck and was mentioned on his talk show Monday night. Beck has encouraged people to post it every business throughout San Diego.
Filner has been accused of sexually harassing multiple women, and many people have called for him to resign.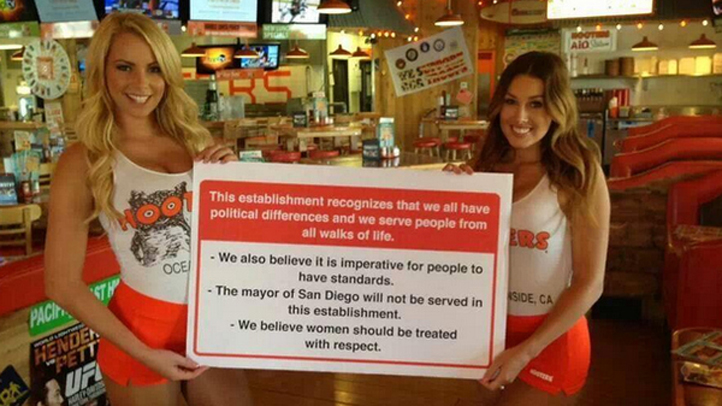 Photo by @StephenPuetz