A woman was arrested Thursday morning after she stabbed a man outside a motel, according to the National City Police Department.
Shortly after 6 a.m., officers were called to the 900 block of L Avenue to respond to a report of a person who was stabbed in the area. Upon arriving, authorities found a man suffering from at least one stab wound. After rendering emergency aid to the man, the victim was rushed to UC San Diego Medical Center, where he later died of his injuries.
A portion of L Avenue between E. 8th Street and Plaza Boulevard was blocked off during the morning as police investigated. Several evidence markers could be seen scattered throughout a parking lot just outside the motel, photos show.
National City police said they arrested 44-year-old Amalia Samaniego in connection with the death, based on evidence and witness accounts. She is now facing a murder charge.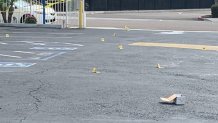 Authorities did not release the name of the deceased, nor what connection -- if any -- he may have had with Samaniego.
The investigation is ongoing. Anyone with information on the case is encouraged to call the National City Police Department's Investigation Division at (619) 336-4457. Anonymous tips can be made by contacting Crime Stoppers at (888) 580-8477.