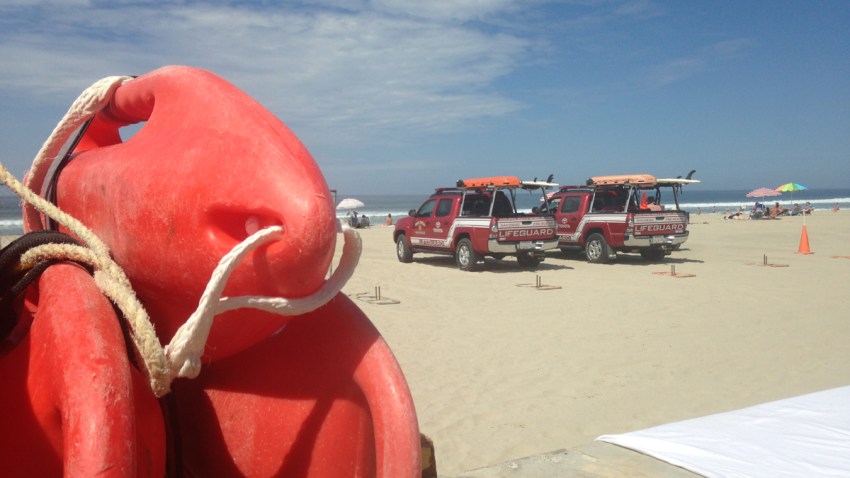 The summer season may soon be coming to an end, but San Diego Lifeguards expect big crowds at local beaches this weekend, soaking in the heat wave.
The hot weather has led to warmer water at San Diego beaches, including Ocean Beach, where surfers reported water temps around 75 degrees Thursday evening.
Lt. James Gartland, Marine Safety Lieutenant for City of San Diego Lifeguards, said the water warm-up will likely bring in big beach crowds over the next few days, and lifeguards will increase staffing at local beaches to meet that demand.
"We've got warm temperatures, we've got 76-degree ocean water, we have a large pushing southwest swell and people will be coming to the beach," Lt. Gartland told NBC 7.
On Friday, lifeguards were busy patrolling beaches, keeping an eye on those swimming in the ocean. Beaches were packed with locals and tourists alike, including many families with little ones.
"We just try to keep them as close as possible, and teach them that the water can be dangerous," said father Robert Colarusso, referring to his kids. "It's fun but it's very dangerous, so they have to stay close and be careful."
Though there is not a rip current warning in effect this weekend, Lt. Gartland said swimmers should know the rip current is pulling moderately, so inexperienced swimmers could still wind up in trouble.
Lt. Gartland recommends swimmers wear a Coast Guard-approved life jacket and swim near a lifeguard tower. If you get caught in a rip current, don't panic. Lt. Gartland said you should wave your arms to get the attention of lifeguards.
Last weekend, Labor Day weekend, San Diego Lifeguards performed more than 600 rescues across local beaches. With large groups expected to hit beaches once again this weekend, officials are bracing themselves for potential rescues.
Meanwhile, the National Weather Service (NWS) has issued a heat advisory for San Diego County that will remain in effect through at least 6 p.m. Friday, citing high temps of 96 to 101 degrees inland.
The NWS said the hot weather will bring higher risk of heat stroke, so locals should take precautions and limit their time outside, keeping strenuous activities to the early morning or evening hours. Wearing lightweight clothing, taking frequent breaks in shaded or air conditioned spaces and drinking plenty of water are also crucial ways to beat the heat and prevent heat-related illness.
Looking ahead, NBC 7 meteorologist Whitney Southwick said a gradual cool down should begin Saturday, with a 4 to 8-degree drop in temperatures.
Friday's forecast included temps in the low-90s along the coast and mid to upper-90s inland. Those areas saw a mix of sun, clouds and humidity throughout the day, too. Southwick said there was a 30 percent chance of thunderstorms in the mountains Friday and in the desert.