A heat advisory is in effect for parts of San Diego County until 8 p.m. Tuesday, according to reports from the National Weather Service.
High temperatures of 95 to 102 are forecast for San Diego County valleys, El Cajon, Escondido, San Marcos, La Mesa, Santee and Poway.
Hot cars are always a concern when the temperatures crank up. Meteorologist Dagmar Midcap says when it's 90 degrees outside it only takes the inside of a car with the windows rolled up 10 minutes to reach 109 degrees. After 20 minutes, it''ll be around 120 degrees, and after 30 minutes, it could be as hot as 129 degrees. Wait an hour and you could see temps in your car climb all the way to 133 degrees, so be mindful of children or animals being left in your vehicle -- look before you lock, Midcap says.
Residents of East County should also be aware that afternoon thunderstorms are possible for the mountains both on Monday and Tuesday, according to NBC 7's Sheena Parveen.
It is expected to be slightly cooler on Tuesday and Wednesday.
An isolated thunderstorm on Sunday over southeastern San Diego County produced 17 cloud-to-ground lightning strikes and 94 in-cloud flashes in about 30 minutes from 7 to 8 p.m.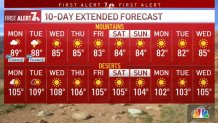 Hot weather can cause heat illnesses. The county of San Diego Health and Human Services Agency recommends the following tips to keep cool and beat the heat:
Stay hydrated with water. Avoid sugary beverages
Check on friends and neighbors at high risk for heat-related illness
Stay cool in an air conditioned area
NEVER leave kids or pets in a closed, parked vehicle
If you go outside, remember: wear a hat; wear lightweight, light-colored, loose-fitting clothing; use sunscreen (SPF 15 or higher); and bring water
Limit time outdoors. Take breaks often
If you need to escape the heat, San Diego County has a Cool Zone program in place. The board of supervisors launched the program out of concern for seniors, persons with disabilities and those with health concerns that could be complicated by the effects of heat.
To find a cool zone area near you, check out this interactive map.
The county, in partnership with SDG&E, provides free electric fans to those who are 60 years of age and older, or are disabled or living on a limited income. To be eligible, a resident must not have access to air-conditioning at their residence. To learn more about the Cool Zones Fan Program or to request a fan, please call 2-1-1.
If you or someone you know is unable to get to a cool zone location and need transportation assistance, you can call 2-1-1 to be connected to a transportation or rideshare service at no cost.
Copyright CNS - City News Service