More thunderstorms were possible across San Diego County Friday due to lingering monsoonal moisture that brought sudden downpours and lightning strikes to the region on Thursday night.
The National Weather Service issues a Flash Flood Warning and a Flash Flood Advisory around 2 p.m. Friday as a heavy rain band moved across the county. The advisory was set to last until at least 4:15 p.m.
The alerts said thunderstorms have the potential to produce life-threatening flash floods near creeks and streams, in urban areas, highways, streets and underpasses.
The areas that could be affected by flash flooding include Borrego Springs, Ocotillo Wells, Mount Laguna, Pine Valley, Agua Caliente, Lake Cuyamaca, Julian, and more.
Thunderstorms were already spotted in the mountains and deserts east of San Diego by 3:30 p.m. and were expected to "pop up" through the late afternoon, the NWS said. The storm system was expected to move out of the area overnight.
"After today's fun filled monsoon adventure, we'll go back to that same old same old dry weather pattern," the NWS said.
The monsoonal storm first reached San Diego County on Thursday and hit the region with sudden showers, thunder and lightning. Viewers sent photos and videos of the unusual Southern California weather from the coast to the mountains and deserts.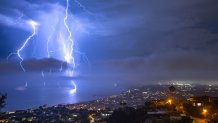 The September storm wasn't a cool, fall rain but instead followed a day of high heat and humidity.
The NWS issued a heat advisory for San Diego County's mountains and inland areas from Thursday morning through 9 p.m. Sunday, so the warm and humid weather pattern was expected to continue.
"Across the weekend, expect it to still be hot," NBC 7 Meteorologist Sheena Parveen said in Friday's First Alert Forecast. "Temperatures will be in the 90s for today."
The heat advisories in San Diego County come amid a statewide Flex Alert that was issued for Wednesday afternoon and evening, and will now extend into Thursday, from 4 p.m. to 9 p.m. During this Flex Alert window, Californians are urged to conserve power due to the increased temps across the state.
---
OK, so what's next? Can we expect a little of that cooler, pre-fall weather in San Diego County anytime soon?
Sorry, no. At least not just yet.
Parveen said it'll stay warm the rest of the week in San Diego County and into the weekend.
Next week will kick off with more warm weather – although not quite as hot as these coming days.