Ten people died Saturday afternoon in Baja California, Mexico, including a 19-year-old man from San Diego named Josué Herrera who has been identified by his family.
A van of gunmen opened fire on a crowd in San Vicente, near Ensenada, killing 10 people and injuring 10 others, including another San Diego man, Roberto Isaias "Tito" Ayala. The victims were participating in an off-road car rally over the weekend, officials said.
More on the Shooting in Baja California
Herrera's mother, Ayme Herrera, and aunt, Graciela Rojas, told NBC 7 and Telemundo 20 that he went to the event, known as "Cachanillazo," with friends.
"You can't believe it," Rojas said, as she held back tears. "You can't, especially because we knew he was there to have fun."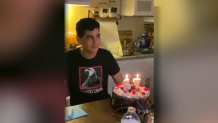 The family said they were nervous about him going because the travel to Mexico could be dangerous, so when they heard about the shooting through Facebook, they were on high alert and immediately tried to get a hold of him.
"We just started calling him and he didn't answer," Rojas said. "We thought he lost his phone and he was probably just lost, and that we were going to find him."
That's when some of the family members went to look for him, but they were not prepared for what they would find.
"Never, never. We thought he was going to be OK," Rojas said.
Rojas told NBC 7 that Mexican authorities had identified most of the people who died, but not all of them.
"They told us there was one victim that needed to be identified," Rojas said. "And they showed us a picture, and it was him."
Herrera's mom and aunt said he was always smiling, and loved his family. He did not have an off-road vehicle of his own, so authorities told them it appeared he was running away from the area when he was shot and killed.
"I don't even know how to describe what we feel," Rojas said, searching for the right words. "We're honestly just taking it day by day."
On Wednesday, Mexican authorities announced the arrest of three suspects linked to the shootout. Prosecutors said the gunfire was exchanged between two rival criminal organizations.