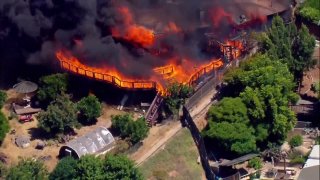 Evidence of a hash oil extraction lab was found in an El Cajon home destroyed by a fire that killed two dogs on Wednesday, the San Diego County Sheriff's Department said.
SDSO found evidence consistent with a THC butane oil extraction lab at the home on the 1600 block of Via Elisa off Greenfield Drive, SDSO Deputy Greg Hampton said.
The Narcotics Task Force was called to take over the investigation.
The fire was reported at around 2:43 p.m. and by the time firefighters arrived, the home was engulfed in large flames. Crews attacked the fire from the outside, tempering the majority of the flames within a half-hour.
Because of extensive damage to part of the home, it was difficult for investigators to find the origin of the fire but they eventually determined the fire started near the master bedroom and back deck.
Investigators believe it started accidentally.
The homeowner was able to get out and leave in his vehicle, said Chief Don Butz from the Lakeside Fire Protection District. However, investigators fear the man's two service dogs may have been trapped inside. SDSO later confirmed the dogs died in the fire.
Lakeside, Santee, Heartland, and San Miguel Fire Departments responded.