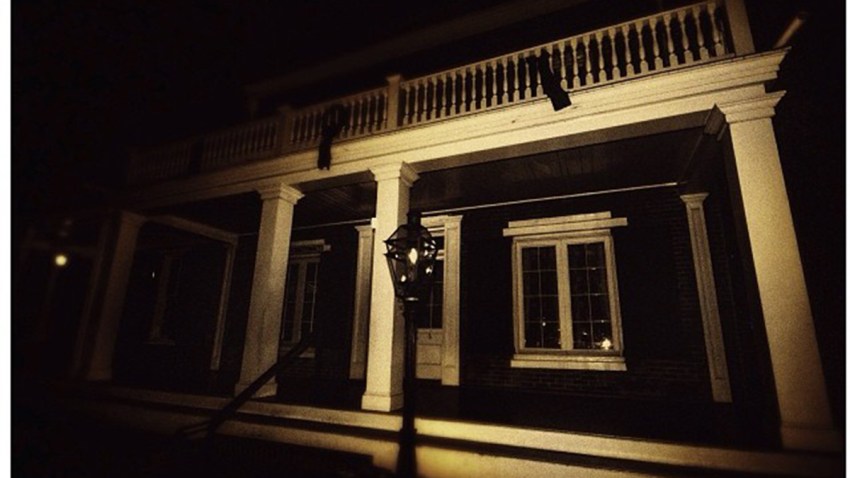 Want to visit a real haunted house this Halloween? Stroll on over to the unassuming Whaley House, a 19th century Greek Revival that sits in the center of San Diego Avenue in Old Town. The small two-story home may seem unimposing, but it has garnered its share of ghost stories.
The house was built by businessman Thomas Whaley in 1856 and was the first two-story brick edifice in San Diego. It also served as a general store, San Diego's second county courthouse and the first commercial theatre in San Diego.
Whaley and his wife Anna lived there with their five children until the last resident, Corinne Whaley, left the house for a nursing home in 1953.
The house remained in disrepair throughout much of the twentieth century until it became a historic site in 1956.
Since then, the home has been at the center of ghostly stories with staff and visitors telling accounts of seeing or hearing strange things.
In 2005, Life Magazine named the Whaley House "the most haunted house in America."
Even when the Whaley family lived there, they believed the home was haunted by the ghost of Yankee Jim Robinson, who was hanged on the property for stealing a boat in 1852. The family heard footsteps, Anna Whaley felt a presence she said she couldn't shake off and the community widely regarded the house as haunted.
In the years since, people have reported chairs rocking, chandeliers swinging, playing of a piano that no longer exists in the house, the smell of fresh baked bread and pies during the holidays and the scent of fine Cuban tobacco and French perfume. The disembodied pounding of a gavel has also been reported in the courtroom, according to the Whaley House's website.
Even Regis Philbin claims to have seen the ghost of Anna Whaley in 1964. "All of a sudden I noticed something on the wall," Philbin reported. "There was something filmy white, it looked like an apparition of some kind, I got so excited I couldn't restrain myself! I flipped on the [flash]light and nothing was there but a portrait of Anna Whaley, the long-dead mistress of the house."
Added in, children's cries, the sounds of music and laughter in the theatre and a phantom dog chasing a ghostly cat make a trip to the San Diego landmark just a bit unsettling.
That's why the Whaley House Museum will be open late this October – because the sound of disembodied laughter is always creepier after dark.
The museum will stay open for evening tours Wednesday, Oct. 24 from 6 p.m. to 9 p.m.; Thursday, Oct. 25 until 9:30 p.m.; Friday, Oct. 26 and Saturday, Oct. 27 until midnight; Oct. 29-30 until 9:30 p.m. and on Halloween until midnight.