More than a half ton of marijuana was seized from suspected smugglers onboard a pleasure boat attempting to dock at Shelter Island on Monday.
According to U.S. Customs and Border Protection (CBP), Air and Marine Operations (AMO) agents became suspicious of the boat and its two passengers as it returned from Mexico waters at approximately 2 p.m.
AMO agent Kris Goland told NBC 7 that agents were initially alerted to the vessel when it failed to stop for required inspection at the CBP dock on Shelter Island.
Agents observed the boat and noticed that it looked overloaded and poorly maintained, characteristics Goland said are common with potential smuggling boats.
Goland said that further suspicion was raised when the vessel tried to dock at a transient, or temporary dock on the island.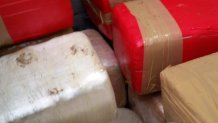 AMO agents confronted the two men they were unresponsive. Agents boarded the boat and determined that the two men were citizens of Mexico illegally present in the United States.
Agents proceeded to conduct an inspection of the boat and found several wrapped packages of pot hidden in after-market compartments inside the boat.
The vessel was transported to a secure facility where further inspection revealed more hidden bundles. In total, agents found 66 packages totaling 1,192 pounds.
[DONT CHANGE MAIN HEADLINE] San Diego's Border Busts
Goland said that smugglers attempting to enter the U.S. by water do so during the afternoon rush in an attempt to blend in.
AMO agents arrested the two men, ages 23 and 48, and turned them over to the San Diego Marine Task Force. Their 26-foot boat used to smuggle the pot was turned over to Homeland Security.