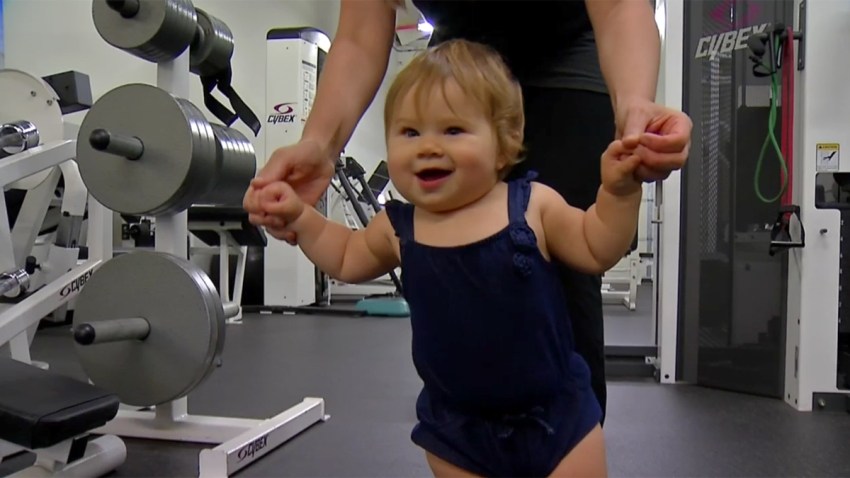 For new mom, Jennie Timar, exercising is a priority. So is the well-being of her 11-month-old daughter, Harriette.

Timar was a member of the Spectrum Athletic Club in Los Angeles.

Last month, she dropped off her daughter at the gym's Kids Club, a service for which she paid an additional $50 a month.

"I had dropped her off at 8:30 a.m. as I usually do and I went upstairs to my stair climber to start working out," Timar said.

Timar says when she went back to pick up her daughter an hour later, Harriette was hysterical.

"The employee at the Kids Club said she got bit. When I saw this I said 'Why did no one come get me?'" Timar said.

The employee told Timar that her daughter was bit by on the cheek by a 2-year-old boy in the Kids Club.

Timar asked the employee if her daughter was given first aid or ice.

"They said 'No, she's fine, she's okay. We took care of it,'" she recalled.

Timar demanded to speak with a manager.

"They refused to do an injury report. They refused to have me talk to the other parent," Timar said. "He said 'We are just a baby-sitting service, we are not a nanny service.'"

So, Timar called police to file an injury report.

After that, Timar said the gym terminated her membership.

"And I looked at it and said, 'I didn't ask to have my membership terminated and they said if you don't like it you can always go somewhere else," she told NBC 7.

Spectrum's website says that parents can "Drop kids off with the knowledge that while you're working out, they're in safe hands. With an exceptionally trained staff."

The manager at the Spectrum Athletic Club didn't want to do an interview with NBC 7 but the company's Vice President of Marketing but did send us a statement saying:
"Spectrum Athletic Club provides an option for our Members with children, the opportunity to conduct their workouts without worry, with their children on-site nearby. Spectrum implements a series of guidelines and protocols for its Kid's Club Program to ensure it provides the safest environment for the children of its members. Essential to the program is limiting the number of children to the program and requiring reservations for babysitting services. By limiting the number of children, this ensures that the Kids Club Attendants are able to focus their attention on all children in the program at any given time. Spectrum also requires that the Kids Club Managers and Supervisors have an educational background in Early Childhood Education or Human Development with previous teaching experience as well as being certified in Infant and Child CPR. Spectrum further participates in California's Trustline program which is a registry that utilizes California's criminal history database for purpose of background checks on child care providers. Providing a safe environment for children to play together, learn from each other and develop is the primary objective of Spectrum's Kid's Club program."
Spectrum also said they require their Kids Club employees, among other things, to have CPR training and pass a criminal background check.

Unlike full-time child-care providers that are regulated by the Department of Social Services, the so-called drop-off centers are not licensed or regulated.
Drop-in daycares are exempt from licensing because parents and guardians are on the same premises.

"There's no regulation whatsoever. And so when you put your kid in any of these ancillary day-care facilities as a parent, you think that the kids are safe when in fact they're not safe," said State Sen. Leland Yee (D) from San Francisco.

He is pushing a bill that would provide some protection for families.

The bill would require workers at drop-in daycares in California to undergo criminal background checks and be at least 18 years old.

He says at least one of the employees supervising the children should have CPR and First Aid Training.

"Those are the minimum standards that we were looking at. And unfortunately, the bill got held in the Senate appropriation committee. We are looking to move it forward in the coming year when we come back in session," Yee said.

Timar said police didn't act further after she filed the report and she decided not to sue the gym.

Instead, she's finding other ways to work out, and won't make the same mistake again.

"For me to leave my daughter and not be 100-percent sure she would be in a safe environment was enough for me not to join a gym at all," Timar said.
More Investigative Stories on NBC 7 About Daycares: