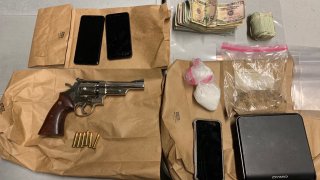 A bad park job turned into an arrest after San Diego Police found a loaded gun, drugs, three phones, and wads of cash.
Pedro Vazquez, 48, was contacted by the San Diego Police Department for allegedly parking illegally along Harrison Avenue in the downtown early Tuesday.
When officers contacted Vazquez, they discovered a revolver and narcotics.
There were two bags of a white powder, and a third bag with a brown material in it, according to SDPD's picture.
Police also seized a small silver gun with a dark brown handle. Six bullets were found at the scene.
The department tweeted a photo of the seized products Thursday morning.
In a tweet, officers said, "We never know what we will encounter."
SDPD confirmed the suspect faces charges of possession of narcotics for sales, possession of a firearm with narcotics, felon in possession of a firearm and resisting arrest.