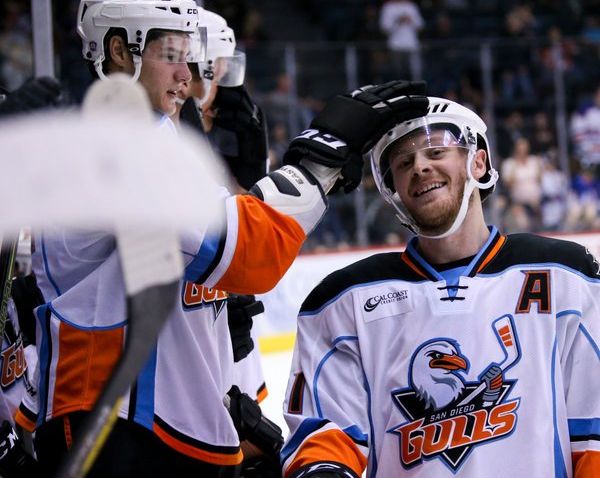 The Gulls started their first season in the American Hockey League about as well as any team possibly could. San Diego won nine of its first 11 games and looked like one of the best teams in the top division of minor league hockey.
Then the Ducks, the Gulls' parent club, had injury and offensive issues so they called up a few of their top prospects like forward Nick Ritchie and goalie John Gibson (who ended up in the NHL All-Star Game). The adjustment was difficult ... San Diego lost six straight games.
They leveled out again but in January suffered another dry spell, finishing with a 4-7 record. But as soon as the calendar flipped to February, the Gulls flipped a switch.
Behind their new starting goalie, Anton Khudobin, the Gulls won eight of 11 in the shortest month on the calendar. Khudobin went 7-1-1 during the stretch and got some help from a suddenly potent San Diego offense. The Gulls averaged nearly four goals a game in February, a number helped by back-to-back 5-goal outbursts over the weekend at Valley View Casino Center (the Gulls beat San Antonio 5-1 on Friday and San Jose 5-2 on Saturday).
With 18 games left in the regular season the Gulls have the inside track on a playoff spot. They're alone in third place in the Pacific Division but nipping on the heels of the second-place Texas Stars and the schedule favors the Gulls.
They don't have to leave the state of California for the season's final two months so travel will not be an issue. Plus they only have four games left against teams that have a better record than they do and all four of those games are against Ontario.
The Reign are in first place in the Pacific and have the best winning percentage in the Western Conference but they're just 3-5 against the Gulls. It's more than conceivable that by the time the season ends in mid-April, the Gulls could go from owning one of the final spots in the Western Conference to hosting a playoff series.