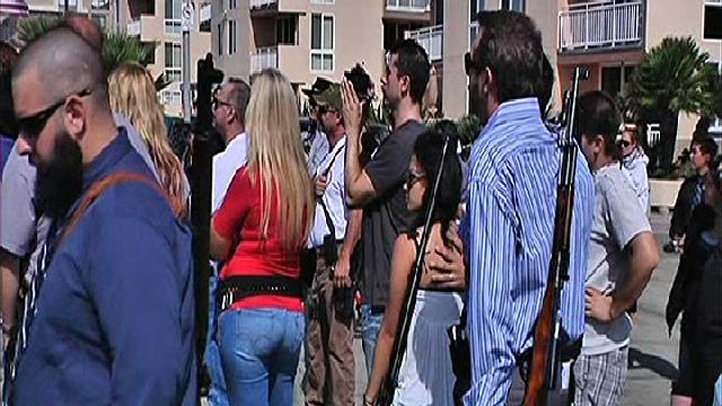 Nearly 30 people carrying shotguns, rifles and pistols gathered at Pacific Beach in a demonstration supporting open-carry of firearms on Saturday.

The protesters said they decided to hold the event after a recent decision by Governor Brown.
Police were forewarned about the event which took place at corner of Felspar and Ocean Front Walk on Pacific Beach.

"They know that we are law abiding people and we're not out to harm anyone," said Sam Wolanyk, a member of Responsible Citizens of California.
The heavily armed group took issue with Governor Jerry Brown's signing of Assembly Bill 144, making it illegal to carry an exposed unloaded handgun in public effective January 1st.
"That leaves us with the only option to exercise our second amendment rights to carry long guns which means rifles and shotguns," Wolanyk said.
Saturday's protest was the group's first effort to get the public used to seeing firearms in public.
Police said all of their actions were legal, but they needed to dedicate resources to deal with calls and questions from frightened people.
"[We are] just calming the public down with these individuals walking around with guns," said Asst. Chief Shelley Zimmerman of San Diego Police Department.
Many beach goers were shocked at the sight and disagreeing with the group's premise.
"You've got criminals that are carrying firepower, how are we going to protect ourselves but it doesn't make the whole society any safer," said one woman.
For Leighann Nickle , an Ontario resident and activist, carrying a 357 magnum revolver is an important option.
"I love my life, I love my family, I love my daughter and I love my community and everyone around it," said Nickle, "I want to be able to protect them if and when the need should arise."