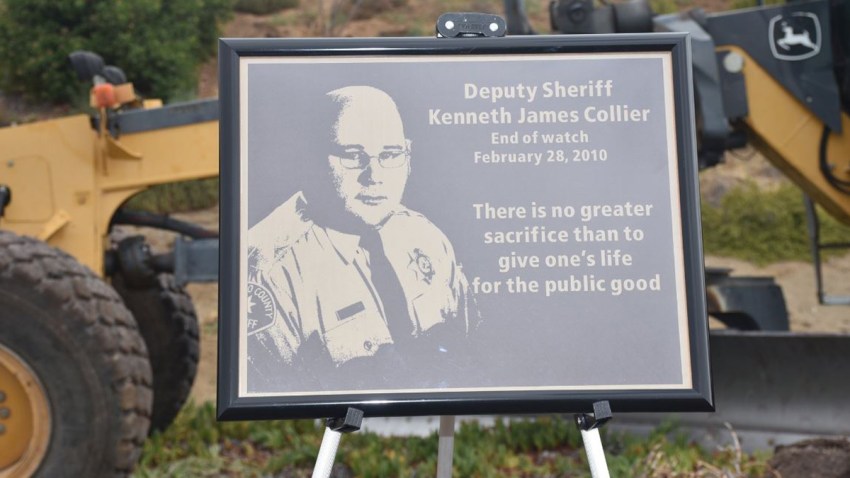 A new park planned for Santee will be dedicated to a beloved deputy tragically killed on duty in 2010 as he tried to stop a drunk driver traveling the wrong way on State Route 52.
The City of Santee held a groundbreaking ceremony Friday at the future site of Deputy Ken Collier Neighborhood Park, a half-acre park that will be built at the northwestern corner of the intersection of Via De Christina and Via De Victoria off Prospect Avenue on the southern end of Santee.
The park will be named after San Diego County Sheriff's Department (SDSO) Deputy Kenneth James Collier who was killed on duty on February 28, 2010. His patrol car went off the side of SR-52 while trying to stop a drunk driver traveling on the wrong side of the highway.
Santee Vice Mayor Jack Dale and County Supervisor Dianne Jacob spoke at Friday's groundbreaking ceremony attended by Collier's family, SDSO deputies and members of the community.
The Santee Park and Recreation Committee proposed the name for the park in May and it was approved by the City Council in June. Construction of the park will begin this month and is expected to finish by the end of October.
The park will feature a playground structure, benches, a covered picnic area, interactive bikeway, a half basketball court and outdoor fitness equipment.
The city has also incorporated several environmentally-friendly features into the park's design like drought tolerant plants, a low-evaporation watering system, and a solar-powered overhead light.
The city was able to partially offset the park's $1.2 million budget with state and local grants totaling $321,000, and a County Neighborhood Reinvestment Program Grant of $64,413 that paid for the basketball court and exercise equipment.