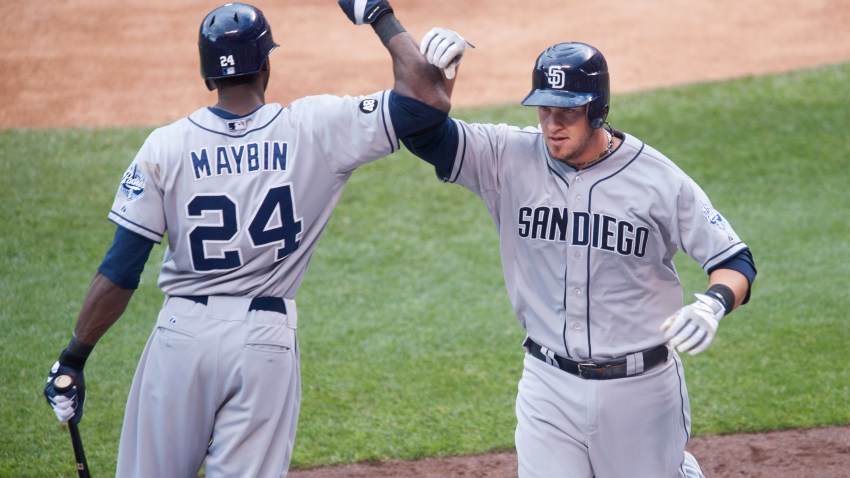 Professional baseball has been played in America since 1876. In that entire time, the 135 years, no player had ever had his first two career hits be home runs, hit from opposite sides of the plate.
That incredible stretch was broken Saturday afternoon, in the Padres 8-4 win over the Rockies.
Padres rookie catcher Yasmani Grandal, just called up from Tucson and making his first MLB start, had a debut that may never be duplicated.
In the 4th inning (batting right-handed), Grandal hit a solo homer to deep left-center at Coors Field. Getting his first big league hit, and having it be a home run, is a big enough thrill.
But Yasmani went all out.
In the 6th (batting left-handed), Grandal hit an opposite field, historic, 2-run homer.
"I can't describe how remarkable this is," said Grandal. "To hit two homers for my first two hits is incredible."
Grandal was brought up because starter Nick Hundley was struggling at the plate. Nick was only hitting .166 with 3 home runs in 55 games this season.
Grandal was one of the key components in the Padres' December trade with the Reds. The 23-year-old won't hit two home runs in every game, but he is one of the top prospects in baseball for a reason. A very good reason.
With a debut like that, the rest of the game was almost an afterthought. However, it bears noting that Alexi Amarista also had a 2-home run day. It was his first career multi-homer game. The 5'7", 150-pound shortstop has hit 3 homers in 3 games.