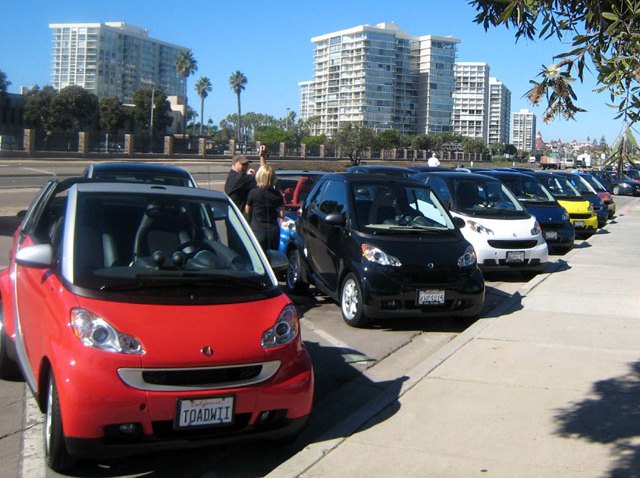 Sure they look odd next to your Ford F-150, but those little guys are proud of their size. At least their owners are.
San Diego smart car owners held a rally Sunday. Even if you're new to San Diego, you've no doubt seen them. Devoted car lovers driving around town with other people who own the same car. It's like cruising when we were teens but we've now got a much bigger allowance for gas.
Once you witness a dozen or so Mini Coopers driving down Palomar Mountain, you'll realize it's not just fun for the drivers.
This Sunday, it was the smart car club's turn sending a few dozen of its cars around town like the Shriners. After they met up at the county administration building on Pacific Highway, they traveled to Imperial Beach and then up the Silver Strand into Coronado.
"We have no officers, no dues, no by-laws and no meetings," organizers said in a news release. "We're not only non-profit but non-organized."
They say they have no affiliation with the smart center San Diego or the manufacturer. For more information on other club events, contact Timothy Pagaard at tlpagaard@cox.net or Susan Carlson at susan@4perfectbooks.com.
R. Stickney has covered news and events in San Diego for 12 years for NBCSanDiego. When she's not working, she's thinking she should be. You can follow her updates at twitter.com/becstick or email her at becky.stickney@nbcuni.com.