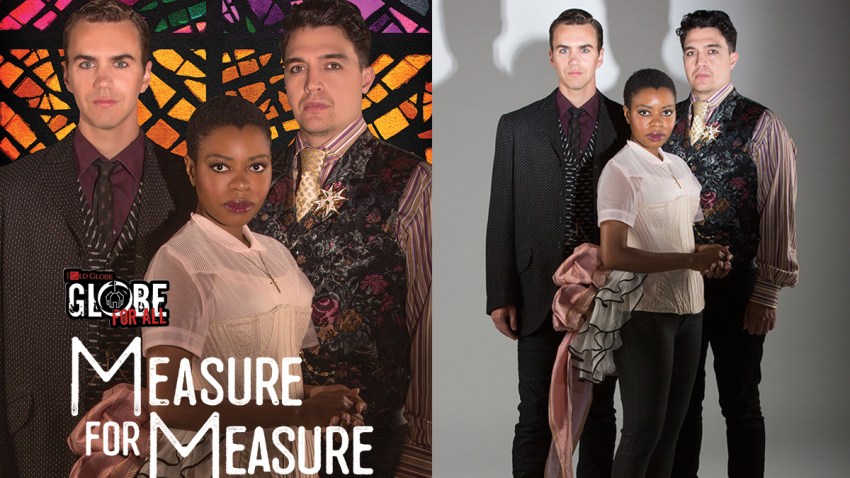 Audiences around San Diego will once again get the chance to see free performances of one of William Shakespeare's beloved plays in their own community as part of The Old Globe's "Globe for All" program.
The program, now in its third year, brings free and low-cost performances of a Shakespeare play to communities around San Diego from Nov. 1 to Nov. 20. The performances offer many San Diego residents the chance to see theater, and Shakespeare, performed live for the first time.
Shakespeare's "Measure for Measure" will be performed this year. The play mixes comedy and drama as it tells the tale of a newly appointed leader (Angelo), who wants to ride the city of its moral decay. That is, until Angelo falls for a young nun who is pleading for the life of her brothers.
This year, the program added an additional week of performances and eight new, diverse venues across the County.
Prior to the performance, the Globe will offer a Bard Basics workshop to enhance the public's understanding of Shakespeare's work. The workshop will be taught by Globe teaching artists.
The performance will start with an introductory pre-show warm up and end with a talk-back with the Globe's Master Teaching Artist Lisel Gorell-Getz.
Free, public performances of the play will be held at:
Friday, Nov. 4 at 1:30 p.m. - Fourth District Senior Resource Center, located at The George L. Stevens Senior Center at 570 S. 65th St., San Diego, 92114.
Saturday, Nov. 5 at 1:30 p.m. - The Old Globe Technical Center, located at 5335 Market St., San Diego, 92114.
Sunday, Nov. 6 at 1 p.m. - The Central Branch of the San Diego Public Library, located at the Joan Λ Irwin Jacobs Common, Shiley Special Events Suite at 330 Park Blvd., San Diego, 92101.
Wednesday, Nov. 9 at 6 p.m. - Lemon Grove Academy/Lemon Grove Historical Society/Lemon Grove Branch Library. The performance will take place in the Roberto Alvarez Auditorium, located at 3171 School Ln., Lemon Grove, 91945.
Thursday, Nov. 10 at 6:30 p.m.: Chaldean Middle-Eastern Social Services, located at St. Michael Chaldean Catholic Church (799 E. Washington Ave., El Cajon, 92020).
Saturday, Nov. 12 at 2 p.m. - City Heights/Weingart Branch Library & Performance Annex, located at 3795 Fairmount Ave., San Diego, 92105.
Sunday, Nov. 13 at 12:15 p.m. - The Linda Vista Recreation Center, located at 7064 Levant St., San Diego, 92111.
Wednesday, Nov. 16 at 7 p.m. - The Anchors Catering & Conference Center at the Naval Base San Diego, located at Yama St., 2375 Recreation Way, Building 3210, San Diego, 92136.
Friday, Nov. 18 at 7 p.m. - A Reason to Survive at the Martin Luther King Jr. Community Center, located at 140 E. 12th St., Suite B, in National City, 91950.
Saturday, Nov. 19 at 12 p.m. - The Escondido Public Library, located at 239 S. Kalmia St., Escondido, 92025.
Additionally, two low-cost performances of the show will round out the tour on Sunday Nov. 20, at 2 p.m. and 7 p.m.
Tickets will cost $15 for the general public and $10 for subscribers. Tickets for that performance will go on sale on Friday, Oct. 28 at 12 p.m.
For more information, click here.