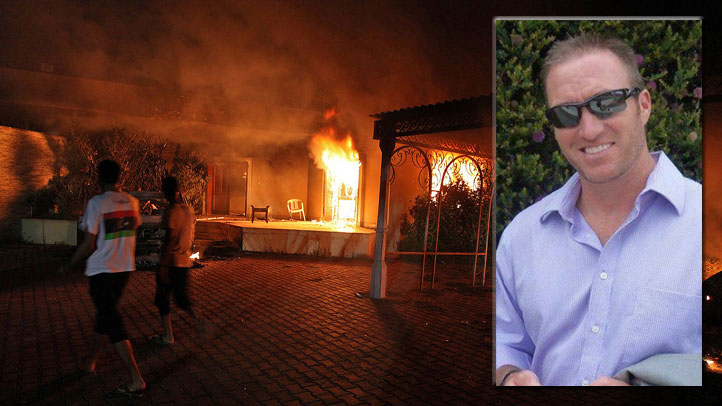 One of the Americans killed in Tuesday's attack on the U.S. Consulate in Libya was once a Navy SEAL and worked as a fitness trainer in Encinitas.
Glen Doherty, 42, served as a Navy SEAL and was working a security detail when he was killed in the deadly attack at the U.S. consulate in Benghazi.
"Glen lived his life to the fullest. He was my brother but if you asked his friends, he was their brother as well," Doherty's sister, Katie Quigly of Marblehead said in a statement to the media Thursday.
Doherty, a native of Winchester, Mass., worked as a Kokoro Camp Trainer at a company called SEALFIT in Encinitas. The gym offers classes modeled after the famous Navy SEAL Hell Week.
His brother, Greg, said Doherty kept kept the same core group of friends since elementary school and was "a master of both [smack] talk and encouragement."
"His fearlessness took many forms throughout his life, but was always at his core," Greg Doherty said in a written statement.
Doherty had worked for years as a security and intelligence specialist for U.S. government agencies in high threat regions, including Iraq, Lebanon, Pakistan and Afghanistan.
A friend of Doherty who asked not to be identified described the former SEAL as gregarious, super friendly and outgoing. A lot of younger guys aspiring to be SEALS looked up to the 42-year-old Doherty the friend said.
"His way of making everyone around him feel special and loved came from the fact that he genuinely looked up to all his friends, always seeing their greatness in a way they sometimes wished they could see themselves, and from the fact that he felt for them the purest and most loyal of love," said Greg Doherty.
Doherty spent his twenties working as a ski instructor and attending flight school, before keeping a promise he had made to himself, that if he hadn't found a profession by the time he turned 30, he would join the Navy and become a SEAL.
Among his assignments were protecting the Kuwait oil fields and responding to the USS Cole Attack.

A trained sniper and medical corpsman, Doherty was also an accomplished pilot with a B.S. in professional aeronautics from Embry-Riddle Aeronautical University.
"He was on security detail and he was protecting the ambassador and also helping the wounded," Quigly told WHDH in Boston.
"You have to understand, Glen was highly trained. He was the best of the best. He wouldn't have gone down for some protest over a movie,'' Quigly said. "This was serious, well-planned, well-executed. He was very good at what he did."
It remains unclear whether Tuesday's tragedy in Benghazi was the work of a mob enraged by an obscure film produced by a man who called Islam a "cancer" and ridiculed the religion's prophet, or was a premeditated, politically motivated attack.
Libyan authorities have made four arrests the country's deputy interior minister said on Thursday according to NBC News.
In Colorado, President Barack Obama talked of the attack during a campaign stop.
"We are going to bring those who killed our fellow Americans to justice," Obama told the rally.
No act of violence shakes the resolve of the United States of America."
"Four men are in custody and we are interrogating them because they are suspected of helping instigate the events at the U.S. Consulate," Wanis Sharif told Reuters. He gave no more details.
"Glen served America with bravery and distinction, and gave his life in an effort to save others," GOP candidate for president and former Massachusetts Governor Mitt Romney said in a statement Thursday. "Befitting his service as a Navy SEAL, his legacy is one of heroism and courage. We grieve for his loss - and for all who lost their lives - and pray for the comfort of those who will miss him."
U.S. Ambassador John Christopher Stevens, who was killed in the attack, hailed from Northern California.

Foreign service officer Sean Smith's formal posting was in the Hague, but he was on a temporary assignment to Libya when he was killed, Secretary of State Hillary Clinton said.
She described him as a veteran of the Air Force with 10 years as an information management officer. His prior postings included Pretoria, Baghdad and Montreal.
Smith was also a renowned player of the online science-fiction game "Eve," where he went by the handle "Vile Rat," according to friends' Web postings. They described having online conversations with him in which he said he was providing IT services to the consulate, and how during a tour in Baghdad he broke away from a gaming session when he heard gunfire.