A Southern California-based supermarket chain will reopen two of its local stores this month, both with new enhancements including wine, beer and tapas bars.
After undergoing remodeling, Gelson's announced its stores in Del Mar and the La Costa/Carlsbad area would reopen on Feb. 24 and Feb. 25, respectively. The celebration will feature free samples at the on-site Gelson's Grill and other freebies, plus deals on beer, wine and spirits.
According to the company, customers at Gelson's Del Mar – located at 2707 Via De La Valle – will enjoy new wine, craft beer and tapas bars, plus a cold-pressed juice bar kiosk and seafood and sushi bar.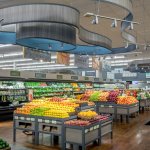 Meanwhile, the Gelson's La Costa/Carlsbad – located at 7660 El Camino Real in Carlsbad – is now smaller and easier to navigate. Upgrades include new wine, beer and tapas bars and a Wolfgang Puck build-your-own pizza station, plus fresh salads and sandwiches.
Gelson's President & CEO Rob McDougall said the improvements to the stores fall in line with the company's goal to create a "relaxing, multi-sensory experience while shopping."
McDougall hopes customers are inspired to try new foods and have a drink at the grocery stores.
The company will also reopen its Rancho Mirage store this month in Riverside County.
Gelson's, which was founded in 1951, operates 27 specialty grocery stores in Southern California. In addition to the two stores in San Diego's North County, there's also a Gelson's on Turquoise Street in Pacific Beach. All three local stores are open daily from 7 a.m. to 10 p.m.