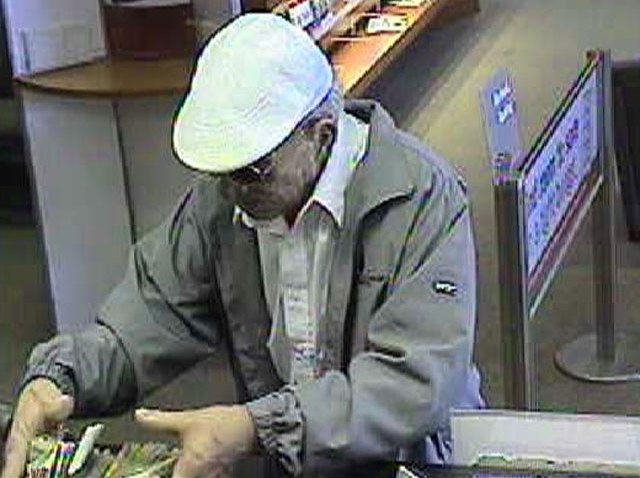 The so-called Geezer Bandit robbed yet another bank - what's believed to be the 11th bank tied to the prolific and elusive bank robber.
The suspect known as the Geezer Bandit approached a teller at the Bank of America in Temecula on Thursday, June 24, 2010 at 1:12: p.m. according to the surveillance cameras.
As he has in all of his robberies, the suspect handed the teller a demand note, agents said. He received a large amount of cash visible on surveillance cameras.
The robbery, the eleventh in a string of local robberies that have occurred since August 2009, is the last in a path from North County to downtown San Diego.
The only region where the Geezer Bandit hasn't struck is the South Bay.

View Trail of the Geezer Bandit in a larger map
The Geezer Bandit's success may be due to the fact that may not be a geezer, according to a private investigator, who believes he is wearing a disguise that is helping him to elude capture.
Private investigator Graham McGruer said he believes the Geezer Bandit is definitely using a disguise, which allows him to blend into the environment.
"Police are trained to look for what doesn't fit, but this guy looks like he fits," McGruer said.
While information about how the bank robber is making his getaway would be helpful, McGruer said the FBI won't release that information in order to prevent the Geezer Bandit from knowing what the authorities know.
Makeup artist Doris Lew Jensen wasn't positive that the Geezer Bandit used a disguise but said some things in the security camera pictures look odd. She believes his face looks like an 80-year-old's, but his body looks younger, leading to the possibility of a good acting job.
"Just like Brad Pitt in 'Benjamin Button' -- that was incredible," Lew Jensen said. "The makeup looked great, and if you didn't know otherwise, he looked like he was the real McCoy. So absolutely it can be done."
Lew Jensen said the process of putting on realistic makeup could take hours and would likely require the help of another person. The process can also be costly.
The disguise could also prevent identification in court.
"If they ultimately arrest an individual for this crime that's 30 years old, then you have an issue of, 'My guys' 30-years-old. That's not him,'" said Daniel Libby, a forensic investigator.
Libby and McGruer said they believe the FBI is looking for a break.
"If he's not leaving trace evidence behind, if he's not leaving fingerprints and things like that, it's going to take someone catching him in the act to do it," Libby said.