State Route 163 has reopened to traffic as utility crews work to repair a ruptured gas line that caused a large leak and prompted the evacuation of more than a thousand homes in Mission Valley Wednesday.
An estimated 3,300 people in nearby homes and businesses had to be evacuated, and a forced closure of State Route 163 added hours to evening commuters' trips.
Joe Britton of San Diego Gas and Electric (SDG&E) said that an underground 20-inch gas line was ruptured by third-party contracted crews working in the area along Friars Road and Ulric Street, near the off and on ramps to SR-163 at around 11 a.m.
SDG&E shut off feeding valves to the line but waited hours for gas that remained in the pressurized line to bleed out.
"Once there is zero pressure on the line, our teams will be able to go in and access the damage and make a determination on any repairs that are needed," Britton said.
Britton said a horizontal-drilling auger damaged the line, and it remained lodged in the punctured line restricting the flow of exiting gas.
"They should know where the gas lines are. We certainly make that information available," Britton said.
At around 6:40 p.m., officials said the remaining gas in the line had bled out completely and crews had begun repairs.
As of 10 a.m. Thursday, some customers in the area were still without gas service while crews continued to repair the line. No time estimate was given for restoration.
Britton said 80 businesses were affected near Fashion Valley Mall. Most of them were restaurants.
The gas leak was affecting thousands of San Diegans trying to make their way home from work.
One of the city's major freeways, SR-163 was shut down and didn't reopen until around 8 p.m. SDG&E said overnight repairs shouldn't affect the morning commute.
The San Diego Police Department (SDPD) issued evacuation orders for some residents in the area at 1:56 p.m., using the Reverse 911 voicemail system, according to the San Diego County Office of Emergency Services.
Those evacuation orders were also lifted at around 8 p.m.
SDFD Fire Chief Mike McBride said that the reverse 911 alert went out to residents in a two-mile radius in error. It was meant only for those within a half mile radius including:
David Street and Ulric Street Eastbound to Mission Valley Road and Mission Center Road
Southbound to Mission Center and Camino De La Reina
Westbound to include the Northwest side of Fashion Valley Mall Entrance
Those who received a reverse 911 call but live beyond the evacuation zone were told they may shelter in place.

"We initially evacuated a small area, trying to reduce the impact to the city and the community around us and realized quickly the potential problem here was much greater," Chief McBride said. "So we expanded our evacuation zone to take that into account."
The reverse 911 alert stated:
"There is a gas leak in the area of Ulric and Friars Road. Emergency responders are addressing the situation. The following routes are closed: northbound and southbound 163, from I-8 to Genesee, as well as eastbound and westbound Friars Road from Fashion Valley Road to Frazee. Area residents can respond to temporary evacuation points. If you need emergency assistance in evacuating, call 911."
McBride said that a chief safety concern was shutting off the power lines running above the accident.
The depressurizing line was kicking up clouds of dust, causing a potential for an electric arc from the power lines above to ignite the plume of gas below which could have set off a devastating explosion.
Britton said that he did not believe the de-energizing of the power lines in the vicinity was impacting customers.

A request for temporary flight restrictions over the area was requested, McBride said.
The strong smell of gas permeated the air, so businesses close to both sides of the freeway were evacuated and closed down, according to SDFD.
The SDPD said impacted residents could evacuate to a temporary emergency point located at 5905 Friars Rd.

As of 3 p.m., Jose Ysea, a spokesperson with the city of San Diego confirmed that 3,300 people had been evacuated in the area, including 1,100 homes.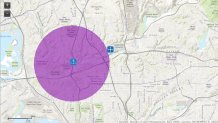 NBC 7 news crews watched as the Mission Valley Hazard Center and the Doubletree Hotel were evacuated due to the gas leak. Businesses near Fashion Valley Mall were also evacuated, including the P.F. Chang's restaurant and The Container Store.
A Denny's restaurant and gas station at Frazee and Friars roads were also among the evacuated businesses, as well as the Dokken Engineering building, also on Frazee Road. The Mission Valley YMCA was closed, as well as a nearby Wells Fargo Bank and stores like Nothing Bundt Cakes.
As of 10:30 p.m., the Hazard Center and Mission Center off Friar's Road were still closed, including Einstein's Bagels, Jamba Juice, BevMo, CVS and several other stores.
Closures in Fashion Valley Mall were also still in effect.
Mike Crook, a computer engineer with UC San Diego, told NBC 7 his workplace was evacuated. Crooks said a police officer came to the office, told employees about the gas leak and told them to leave for the day.
Crook said he couldn't smell the gas from his office, so news of the leak was surprising. He grabbed his bicycle and heeded the officer's warning.
"It's time to go," Crook added.
Barbara Burgamy and Marsha Nesbitt, of Santee, were on their way to see a movie at Mission Valley Hazard Center when they got stuck in the heavy traffic stemming from the gas leak.
They sat in their car, wondering what was going on, as motorists were directed to go around and away from the area.
"It's a work in progress on our patience," said Burgamy.
Wright said the area of Fashion Valley Mall closest to the incident was evacuated but not all stores because SDG&E's readings of the area showed no threat to the public.
"Where there are no readings, there is a safety zone, that they will let the mall function in the part that's not affected," Wright said.
Police officers were called to help with traffic control on Friars Road.
California Highway Patrol (CHP) officials said the SR-163 ramps in the area would be temporarily shut down to traffic due to the leak. A short time later, a traffic alert was issued at the southbound SR-163 ramps at Friars Road.
The CHP said officers also shut down the on-ramp to southbound SR-163 at Genesee Avenue, as well as the ramp to southbound SR-163 at southbound Interstate 805.
Images: Mission Valley Gas Leak
SDG&E spokesperson Helen Gao said an emergency SDG&E control crew was at the scene working to mitigate the leak. She estimated repairs would take at least four hours. The company is looking into the age of the gas line and other details, Gao said.
At around 1:15 p.m., Caltrans announced that drivers should expect "heavy congestion" on the freeways through the afternoon commute as crews continue emergency repairs on the gas line. Caltrans also said commuters should expect delays on surface streets around the Mission Valley area.
No injuries have been reported. No other information was available.