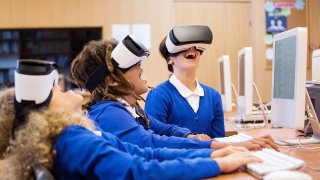 Instead of reading about cell biology, or even watching a very cool video on cell biology, imagine you could shrink down small enough to go inside a cell and observe biochemical reactions up close.
And what if you could use your own hands to smash molecules together, just to see what happens?
That's what Connor Smith envisions when he considers the future of classroom learning. Using virtual reality technology to improve education is something the University of California, San Diego senior thinks about a lot, in fact, and he's already created a VR application that replicates the inside of the human body.
"I've never seen kids so interested in cell biology in my life as when they tried out Cell VR," Smith said. He cites this as one example of how "VR can really get people passionate" about learning, without realizing they're learning.
"It's kind of like 'Magic School Bus'-esque: It can take you and make you smaller; it can take you across time," Smith said.
But virtual reality has yet to go mainstream. It's still a wild west of tech: an environment where anything is possible. The issue facing educators interested in bringing VR tech to their classrooms, though, isn't whether it's possible, but whether it's feasible. Although mobile VR only requires a headset — Google's Cardboard headset costs as little as $15 — and a smartphone, those costs can still be the limiting factor for classrooms on tight budgets.
And as Kevin Krewett writes in a July Forbes article, another crucial factor keeping VR from ubiquity is that smartphones are not optimized to run "continuous, graphics-intensive" VR applications. Even for the early-adopter gamer set, Krewett says, issues like a lack of an established social community around VR and even motion sickness have helped keep the tech near the fringes.
Those obstacles aren't keeping innovative developers from trying, though. In addition to Cell VR, Smith also designed an application that replicates a high school chemistry lab.
Replacing a real-world lab with a virtual version, he said, has the potential to cut down on both the risks and the expense of maintaining a functional chemistry lab used by hundreds of students.
In the team's virtual lab, a student can move around just as she would in any real-life chem lab. But the student can't scald herself. She won't break an expensive beaker. She won't cause a devastating explosion if she mixes the wrong amounts of the wrong chemicals.
"Chem lab activities are very kinesthetic activities. Students are involved in the lab; they're learning by doing, and that's fantastic. But it's expensive, and sometimes intimidating," Smith said.

Learning within a particular place or context helps students not only find solutions to problems at hand, but to develop new ways of thinking, said Zoran Popovic, director of the Center for Game Science at the University of Washington.
"You remember cognitively very differently when you're in the situation, directly experiencing something," Popovic said.
Smith is part of a UCSD virtual reality club, which has visited local schools to demonstrate the tech to middle and high school students.
Dr. Susan Domanico teaches high school science courses at La Jolla Country Day School, a private school in San Diego, and her students' interest in potential applications of VR technology prompted her to invite Smith and other members of UCSD's Virtual Club to put on a classroom demo.
"As I've learned more about VR over the course of this year, I see it fitting in different ways in different classes," Domanico says. She thinks it would work as a great supplementary learning tool in her neuroscience and biology classes, helping students "grasp many of the complex concepts we explore in biology."
Access is still an obstacle for getting VR into classrooms; virtual reality headsets like the Oculus or the Google Cardboard require the use of smartphones. As Popovic points out, "most affluent kids get phones in middle school, but for the majority of the student population, it's pretty much a luxury. It's not going to happen if everyone doesn't have access to the tech."
The tech may be cost prohibitive at this point; then again, for many public schools, so are new textbooks, Bunsen burners and field trips to working farms or planetariums or national monuments.
Zachary Korth has taken classroom VR at least one step further: He had his Portland, Oregon, middle school engineering and computer science students come up with and build virtual reality applications, including one that recreated the inside of their school building. The application, the students reasoned, would be useful for a new student, who could use it before their first day to learn how to navigate unfamiliar surroundings.
Korth said he bought the six Cardboard headsets his class used with his own money, and he loaned his smartphone to students who didn't have their own to use in class.
Still, he and his students faced technological roadblocks in trying to bring their ideas to full fruition.
"Some of the trouble, the reason why some of these didn't come to fruition, was because of the lack of technology," Korth said. "I will say that in my school, we had a lot of technology — it just didn't have the right technology."
Korth explained that his school was equipped with tablets, but for students to build functional VR worlds they'd need PCs with certain amounts of memory and processing speeds.
"We tapped into an interest of theirs that could have gone so many places. It just didn't, because we didn't have the technology available," he said.

Smith thinks there's more to schools' hesitancy in adopting the tech than just the cost.
"Even if a school would get just a single VR system students could use, long-term that would be much cheaper than a science lab, for example," he said. "But right now it's still very much in that early adopter phase."
That's why he feels it is important for he and his fellow VR developers and enthusiasts to visit classrooms to give students, and teachers, the chance to become familiar with the technology.
"I don't think it's something that is going to 'disrupt' the classroom," Smith said.
He thinks it's likely VR will continue to supplement students' more traditional textbook- or tablet-based learning. In fact, he envisions textbooks coming with supplemental VR applications, written by the same authors, so students can combine two- and three-dimensional learning.
"Three-dimensional learning is just what we do in real life," he said. "We pick things up with our hands. And we look at them."