Thousands of law enforcement officers escorted the casket of slain San Diego Police Officer Jonathan De Guzman as it traveled across San Diego County to a public memorial service Friday.
The fallen officer and his colleagues were saluted by not only firefighters on overpasses and bridges but by hundreds of citizens holding flags and signs.
It was a touching outpouring of support for a police department one week after a shooting that killed one veteran uniformed officer in the line of duty and seriously injured another.
De Guzman, 43, who survived a stabbing 13 years ago and shot at a gun-wielding man three years ago, died July 28. The violent attack happened seconds after De Guzman's partner Officer Wade Irwin stopped a man walking in Southcrest, according to San Diego Police Chief Shelley Zimmerman.
The man turned and opened fire on both officers, investigators said.
De Guzman was shot multiple times, at point-blank range, while he was seated in his patrol vehicle. Prosecutors say the officer never had a chance to raise his service weapon.
[G] San Diego Mourns Slain SDPD Officer Jonathan De Guzman
Following recent police killings in Dallas, Texas and Baton Rouge, Louisiana, the shooting in San Diego prompted many citizens to show their support for the SDPD.
One man waving a giant American flag greeted the procession as it exited Interstate 8 just before 11 a.m., heading for Shadow Mountain Community Church.
Sprinkled on bridges and overpasses were people holding signs or flags. Eastbound traffic on I-8 pulled over into the center divide. One driver held his hands out of his window and clapped as vehicles from the procession drove in the opposite direction.
So many law enforcement vehicles took part in the procession, that there were still officers leaving the parking lot of Qualcomm Stadium as the hearse arrived at the site of the memorial service.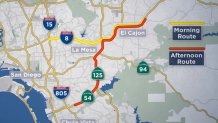 Chief Zimmerman spoke at the service, remembering the officer she once worked with at Mid-City Division as "a friend to all."
She spoke passionately about the oath she and other officers take to protect the public.
"Make no mistake about it – we need police officers to stand that line between good and evil and between chaos and calm," Zimmerman said at the service. "Every single day, every single night, we need them."
California Attorney General Kamala Harris and San Diego Mayor Kevin Faulconer also spoke. Faulconer remarked that it was easy to see how J.D. grew to become a courageous, selfless man.
"At the end of the day, a police officer is a neighbor who cares enough to put it all on the line," Mayor Kevin Faulconer said.
As De Guzman's colleagues spoke, their grief was obvious as each struggled to keep their composure.
GST Sergeant Allan Butchart, who worked with DeGuzman, has watched strangers leave notes flowers and balloons for the SDPD family at the peace officer's memorial outside SDPD Headquarters.
"If those strangers dropping off those flowers, balloons, etc knew him just for a minute, they would realize the depth of the grief we are all going through," Butchart said.
Sgt. John Iammarino recalled De Guzman's rookie pursuit, his loyalty, sense of humor and karaoke ability while Officer Cassie Ericson described her former partner as "a protector" and "a warrior."
Fe De Guzman said her son stopped for a moment before he left for his shift the night he was killed. She said he always stopped before going to work and prayed with his parents who lived with him and his wife, Jane.
"Remember to take an extra moment with your family and friends and tell them how much you love them and how grateful you are for them," she said.
It was the second memorial service in two days for the decorated officer, a 16-year veteran of the force who worked on an anti-gang unit.
A smaller crowd mourned De Guzman Thursday at his family church in Bonita, the small suburb where he will be buried. Uniformed police officers from as far as Chicago, New York, Aurora, Colorado, and Fort Worth, Texas, packed Corpus Christi Catholic Church for the 90-minute Mass.
Jesse Gomez, a construction worker with a criminal record stretching back to 1983, pleaded not guilty Tuesday to charges of murder and attempted murder from his hospital room. He is recovering from wounds he received in a gunbattle with police.
Prosecutors say the two officers pulled up to Gomez, who was on foot, and Irwin got out of the patrol car to ask if he lived in the area. Gomez, 52, is accused of shooting Irwin and then went to an open passenger door to fire several times into the car, killing De Guzman. After being shot, Irwin fired back as Gomez fled, prosecutors said.
Police have yet to determine a motive.
Two thousand law enforcement officers took part in the procession. Approximately 1,000 of the officers were from the San Diego Police Department.
Other agencies including the San Diego County Sheriff's Department were brought in to help patrol the city.