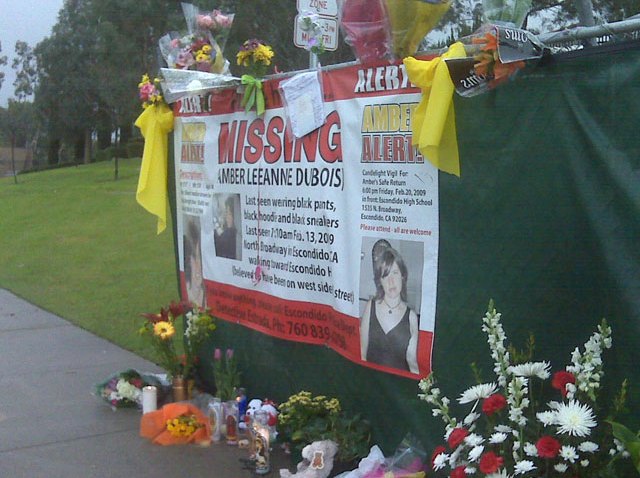 Just hours after news of Amber Dubois' death was made public, a memorial with notes, flowers and ribbons stood outside Escondido High School.
Early Saturday, investigators found skeletal remains in a rugged, remote area of Pala, in northern San Diego County, authorities said. With the help of dental records, investigators were able to identify Amber Dubois' body and inform the family late Saturday.
Escondido police and San Diego County Sheriff's investigators found the body based on a new lead in the investigation, Escondido's Police Chief Jim Maher said.
Students at Escondido High School, Amber's old school, struggled with the news on Monday. The high school brought in extra counselors to help students cope. As students arrived and stopped by the memorial, some say the discovery of the 14-year-old girl's body has reopened old wounds.
"Amber has been lost to us, but she will live on in the memory of our staff and students as we try to move forward during this time of healing," principal Rich Watkins said in a prepared statement.
On Sunday, friends and fellow students of the teenage girl left flowers and candles beneath Amber's missing poster.
"You are in a much safer place now Amber. May you rest in peace," one of the cards read. Another read, "Amber, God bless you and your family."
Holding back tears, Nathan Pederson, 17, walked to the memorial with his parents and younger sister Sunday. He knew Amber well and still can't believe his friend's life had such a tragic ending.
"Whoever did this, he can't hurt her anymore," said Nathan as he wiped tears from his eyes. "She's in a good place now."
Amid the grief of Amber's death, the pain and disbelief of some Escondido High School parents quickly turned to outrage.
"Something has got to be done," said Judy Pederson as held on tightly to her daughter. "[Authorities] need to protect our children…this just hits too close to home."
Bruce Pederson is best friends with Amber's stepdad Dave. Bruce said he called his friend Sunday when word got out that investigators had found Amber's remains.
"The tone in his voice said it all," said Bruce. "He already knew."
Friends and family describe Amber as a good hearted girl. She was last seen the morning of Feb. 13, 2009, as she walked to Escondido High School. As of Sunday night, the high school's digital board was still showing announcements asking the public to call the Escondido Police Department if they had any information on Amber's disappearance.
"You have to be safe somewhere," said Judy Pederson. "I just don't know where that is anymore."
Investigators have not announced if John Albert Gardner III, a registered sex offender from Lake Elsinore, may be connected to Amber's death. Gardner pleaded not guilty in the rape and slaying of 17-year-old Chelsea King. The Poway teenager was last seen alive Feb. 25 when she went for a run after school in the Rancho Bernardo Community Park.
Meantime, some Escondido High School parents can't help but draw a connection.
"We really didn't think anything like this was going to be the outcome until this creep got caught," said Bruce Pederson.
Now some parents are hoping, the discovery of Amber's remains, will somehow give the family some closure.
On Monday at 6:30 p.m., a vigil is planned for Escondido High School to honor the memory of Amber Dubois.