"It was so scary. You didn't know if he was going to survive," Reef Whittemore's mother Jessica tells NBC 7 as the rambunctious toddler looks at his parents.
The Whittemores and about 200 other families whose children spent time in the Neonatal Intensive Care Unit (NICU) returned to Rady Children's Hospital Sunday to reconnect and thank the doctors, nurses and other staff who helped save their children's lives.
Rees, who turns three on Monday, was born with an aneurysm on his brain. A routine ultrasound discovered the aneurysm, and Jessica had an emergency C-section the next day. After six days at Rady Children's NICU doctors surgically removed the aneurysm, and several weeks later Reef was home with mom and dad. "He's a happy, healthy smart little boy," Jessica beams. She says Rees especially loves to go to the beach, build with Legos and play with his sister.
The emotional reunion, in its third year, brings together families from San Diego, Imperial and Riverside counties to play games, do art projects, face paint and see how much the kids have grown.
Jazleen Topete, 19 months, spent 62 days in Rady Children's NICU. Jazleen was born with an undiagnosed birth defect called congenital diaphragmatic hernia, meaning she only had half a diaphragm and couldn't breathe. She was only given a 10 percent chance of survival.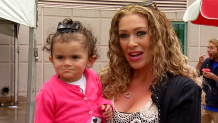 "This hospital saved her life," Jazleen's mother Jessica Escobar says emotionally. "This became our home."
Jazleen is still fed through a gastronomy tube (G-tube) and has physical therapy sessions, but the 19-month old who wasn't supposed to walk now does circles around her mom. "She was not expected to live, walk, talk, do many things that she does now," Escobar smiles.
Jazleen was taken from her mom straight into the NICU, and Escobar wasn't able to hold her daughter until she was a month old. "She's thriving because of all the amazing surgeons and nurses here," Escobar adds choking back tears.