Former NFL player Kellen Winslow Jr. will stand trial on allegations that he raped a teenager that attended Escondido High School in 2003.
The woman accusing former NFL player Kellen Winslow Jr. of raping her said she had nightmares the year following the alleged assault.
Jane Doe, as she was identified in court, said Winslow and she would frequently appear at house parties together when she was 17 years old and Winslow was 19 years old.
Doe testified Monday that after a night of partying with friends in June 2003, she awoke in someone's bedroom.
She remembers seeing a man standing in front of her while Winslow had sex with her, she testified. A third person was filming.
"When he flipped me over and I looked to the left, someone was standing there with a camera," Doe said. "I don't know who it was and I don't remember seeing his face but I remember seeing the lens of a camera."
She recalled yelling, "Stop," but Winslow didn't until he was pulled off of her by the friend.
Doe recalled having nightmares about the alleged assault during the following year, after she had moved away from San Diego.
"Having a dream of somebody pressing against you and seeing a camera is what it's like imprinted in my head," she said.
Winslow, now 35 years old, faces charges of forcible rape and rape of an unconscious woman in connection with the June 2003 incident, prosecutors said. He will be formally arraigned on October 30.
Winslow has entered a plea of not guilty.
He had previously been bound over for trial on kidnap, forcible rape, forcible oral copulation and forcible sodomy charges stemming from allegations that he raped or attempted to rape at least four women over the age of 50 over a three-month span of time, according to court documents. The defendant denies the allegations.
Winslow was first arrested on June 7 after a report of a possible burglary in Park Encinitas, a senior community located on North El Camino Real, east of Interstate 5 and north of Encinitas Boulevard.
At the time, he faced first-degree burglary charges.
He was later accused of sexual assault, kidnapping and sodomy in connection with incidents dating back to March 17, according to the complaint.
Court documents revealed Winslow had entered the senior community on June 7. Prosecutors said Winslow intended to rape an 86-year-old woman who was sleeping inside her home.
The complaint accuses Winslow of attacking a 54-year-old woman and a 59-year-old woman on March 17 and May 13, respectively, in his SUV.
One of the women accusing Winslow of rape testified that she was choked and told she would be killed if she screamed.
He had attempted to rape a 71-year-old woman and burglarized her property on June 1 and had indecently exposed himself in public on May 24, the DA's office said.
Three of the crimes occurred within a mile to 1.5 miles from Winslow's home, prosecutors established.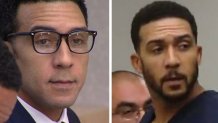 Winslow pleaded not guilty and was initially held without bail based on "clear and convincing" evidence he poses a threat to the community and is considered a flight risk.
The judge later set bail at $2 million. He has since bailed out.
If convicted on all counts, Winslow could be sentenced to life in prison.
Defense attorney Harvey A. Steinberg said Winslow looks forward to being vindicated.
Winslow, the son of former San Diego Chargers great Kellen Winslow Sr., grew up in San Diego and graduated from Scripps Ranch High School before playing his college football at the University of Miami.
His NFL career started with the Cleveland Browns in 2004 and included stints with the Tampa Bay Buccaneers, Seattle Seahawks, New England Patriots and New York Jets.