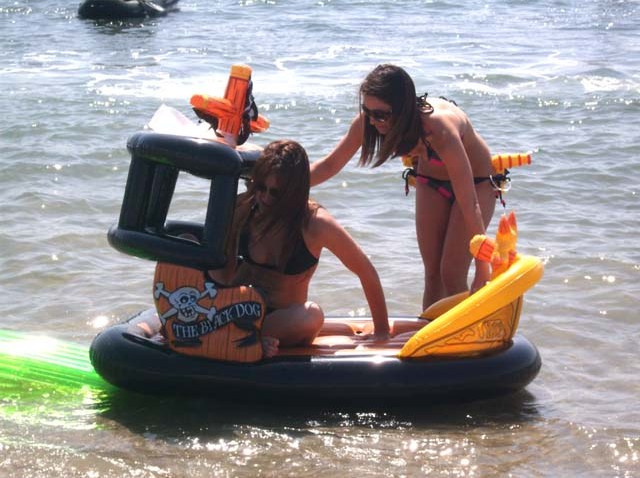 It wasn't exactly the huge party some were expecting. San Diego police believe there were about 700 people at Floatopia -- far less than the 5,000 that were expected.
Partygoers floated around the beach booze ban Saturday -- this time held on Fiesta Island. One person was arrested and about 20 people had to be rescued by San Diego lifeguards.
The law, which was approved in 2008, prohibits drinking alcohol on the beach, yet doesn't exclude drinking while in the water. However, one of the partygoers opted to drink a Coke on the sand instead of going in the water.
"There is nothing but pee and puke in there, why would you want to go in there," the partygoer said.
Another said he believes the drinking ban is actually more dangerous now.
"You have people who are dead drunk in the water. How safe does that sound? I think it's a lot more dangerous. I guess the main problem is that people just always take things to the extreme," Brandon said.

San Diego police say although the young adults are not breaking the law, they are exploiting a loophole by drinking on the water. Officers stress that they are working with the City of San Diego to possibly change the law.
"As long as you're in the water you're allowed to drink so that's really all there is to it," said partygoer Kailige Crowe.
Complaints have seemed to always follow past parties. Nearby residents said they were too noisy and in the end left trash both on the beach and in the water.
"There are concerns about where people are relieving themselves-the water or the park somewhere," said Lt. John Everhart. "[Last time] there was a large group of people in the water, many of whom were intoxicated. There was trash left everywhere."
To address some of those concerns organizers decided to move the party to the east side of Fiesta Island where there's more room, parking and no nearby residents.
But even with the new modifications, Everhart stresses the potential danger.
"We never encourage people to drink when they are swimming, rafting or boating," he said.