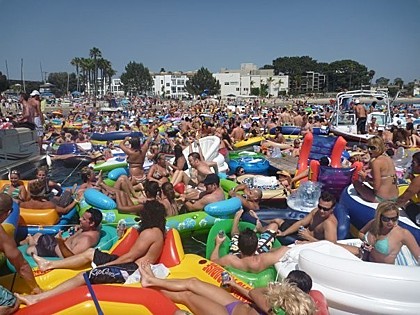 Lifeguards are preparing for thousands of people partying in Mission Bay today.

A screen grab of the Facebook Floatopia San Diego 2010 Spring Break page says there are 8,370 confirmed "guests," with another 5,022 saying they may attend.

The water-based events -- also called raftopias and floatapalookas -- involve large groups of people drinking alcohol while drifting away from shore; touching the ground nullifies any legal protections offered by the strategy. Critics of such events are concerned about safety issues -- people have been spotted leaving the water, getting into their cars and driving away; also, inebriated persons stuck in the middle of large groups of rafts could fall into the water, rendering rescue difficult, if not impossible for lifeguards.

Last fall, more than 1,000 people crowded onto Sail Bay for a similar event. As far as you could see on the bay, there were rafts with coolers of beer, people walking down to the water with 12-packs, all in an effort to get bypass the city's beach booze ban. Police said afterward that they arrested several people and issued 50 citations.

Sgt. Rick Strobel with the Boating Safety Unit of the San Diego Lifeguards said on Wednesday that city agencies -- including the fire and police departments, as well as parks & rec -- are preparing for a large scale event.

"Being aware of the event, we have taken steps to provide public safety," Strobel said. "We're going to staff the area with lifeguards to do our core job, which is prevent drowning and provide safety."

Strobel said that lifeguards do not typically operate in the Sail Bay area but that his department would be doing so this weekend.
"We will be bringing in roughly 10 to 15 additional lifeguards," Strobel said.

Lifeguards are concerned about safety at the event and said that, while they have no specific plans to prevent the floats from creating large, floating islands, they are not ruling that out, either.

"We will do our best to manage the event in the safest way possible," Strobel said. "Obviously, with thousands of people in the water, it will be a significant challenge."

Alcohol abuse, of course, is another concern for lifeguards.

"We understand that drinking is likely going to be involved, and as professional lifeguards, we do not recommend any kind of aquatic activity under the influence of alcohol," said Strobel.

According to the Centers for Disease Control web site, "alcohol use is involved in up to half of adolescent and adult deaths associated with water recreation."

Voters approved the beach booze ban in November 2008, making a one-year temporary ban permanent on all city beaches. The measure made it illegal to consume alcohol at all city beaches, Mission Bay Park and other coastal recreation areas. Last year, the City Council approved a measure making the ban permanent.