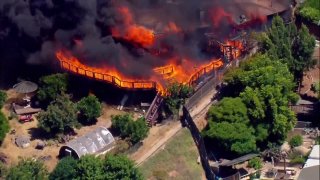 Multiple fire agencies were able to knock out flames that tore through a home in El Cajon Wednesday afternoon, but investigators fear two dogs may have perished inside.
The fire was reported at around 2:43 p.m. on the 1600 block of Via Elisa off Greenfield Drive. By the time firefighters arrived, the home was engulfed in flames.
By 3:13 p.m. fire crews were able to knock down the main body of the fire and moved to fight the fire defensively, from the outside of the house.
No injuries were reported, and the homeowner was able to get out and leave in his vehicle, said Chief Don Butz from the Lakeside Fire Protection District. However, investigators fear the man's two service dogs may have been trapped inside.
No evacuations were ordered.
The cause of the fire remains under investigation. San Diego County Sheriff's Department Bomb and Arson Unit is investigating.
Lakeside, Santee, Heartland, and San Miguel Fire Departments responded.
No other information was available.
Check back for updates on this breaking news story