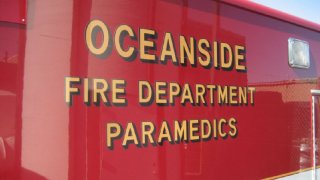 Firefighters were called out to extinguish a series of brush fires in North County on Friday.
The fire broke out shortly around 10:30 in the area near College and Oceanside boulevards in Oceanside, according to police, eventually burning about a quarter-acre.
Officers in the area evacuated some nearby homes as a precaution.
Crews made quick work of the blaze, and by 11:30, firefighters had put out the flames. Officials will likely be on the scene for several hours mopping up and putting out hot spots.
No property was damaged by the fire, according to the Oceanside Fire Department, nor was anybody injured.
The cause of the fire near College and Oceanside boulevards is still being investigated, officials said on Friday afternoon.
Also on Friday afternoon, OFD officials said there were also several small brush fires that all started at around 1:30 along Canyon Drive south of state Route 76.
"Reports placed a person starting fires along the street," OPD said in a statement.
After arriving, Battalion 217 spotted several small fires on the west side of the street in heavy brush moving uphill toward homes on Walton Street. Thanks to the help of fire engines that arrived shortly afterward, firefighters were able to out the fires, including one on the east side of the street, which charred an area of about 100 square feet.
OFD is working with Oceanside Police on the the cause of those fires.
Copyright CNS - City News Service