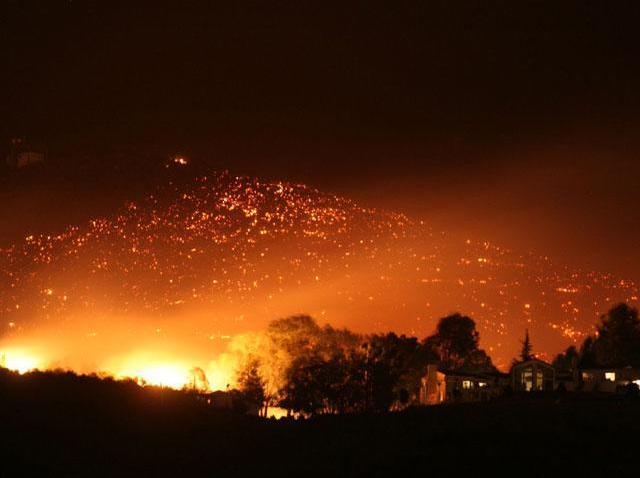 Two years after the devastating wildfires of 2007, homeowners are still rebuilding in Ramona, Rancho Bernardo, Escondido, Poway and Fallbrook.
On October 21, 2007, fire swept through the county destroying nearly 1,500 homes, burning 368,000 acres and killing ten people.
Residents who lost everything in this round of fires have had a tougher time pulling together the finances to replace their homes than those residents who lost homes in the 2003 Firestorm.
"The difficulty is that people are completely unprepared for a disaster in an economy like this ---- it's been twice as difficult for people," Linda Chase told the North County Times. Chase has counseled hundreds of victims as a member of the Community Recovery Team Inc. "Many of them lost their jobs, their resources dried up and they couldn't pay their mortgage," she said.
In the county's backcountry bouncing back from the loss seems to be particularly slow according to the paper. Just 25 percent of primary residences completely rebuilt as of Sept. 30, 2009.
Construction within cities blackened by the fires has moved faster. About 52 percent of the 447 homes destroyed between Rancho Bernardo (city of San Diego), Escondido and Poway have been rebuilt. Many others are under construction.
Bonnie Fry, coordinator for the Ramona Fire Recovery Center, said rebuilding in rural communities has been slow for two reasons: a higher percentage of homeowners were not adequately insured and construction costs, given today's stricter fire and building safety codes in the backcountry, are greater.
For one family's story, check out the full article in the North County Times.
Copyright Archive Sources