Crews keep battling two wildfires that ripped through Camp Pendleton this week.
On Wednesday, firefighters had surrounded 50 percent of the Buffalo fire, according to a social media post from Camp Pendleton officials. The blaze covered 1,088 acres. As of 6:45 a.m., the flames remained confined to the Whiskey Impact area.
Another wildfire is located south of Camp Horno, burning 80 acres as of Wednesday. According to Camp Pendleton, the blaze is 90 percent surrounded. The Basilone Road near the fire remains open.
Neither fire poses a threat to people or nearby buildings and houses at this time.

The Buffalo fire broke out at Camp Pendleton in the late afternoon Monday around 4:35 p.m., said a spokesperson for Camp Pendleton.
The North County Fire Protection District posted a note on social media saying the active fire was being monitored by Camp Pendleton firefighters and does not pose any threat to neighboring communities.
The Camp Pendleton Fire Department updated Facebook followers Monday night saying there were two fires - one in a training area and a second in the Horno area that burned over the weekend.
"Smoke may be visible from quite a distance," the post reads.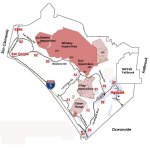 Please refresh this page for updates on this story. Details may change as more information becomes available.