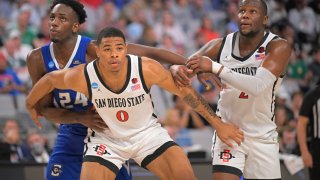 San Diego State and Creighton might not be familiar with this stage, but what they do know quite well is one another.
Sunday at 11:20 a.m. (PT) the Aztecs face the Bluejays in each team's first appearance in the Elite Eight – with both hoping to book its first trip to the Final Four. It's also a rematch of last year's first-round meeting.
In what turned out to be their 2022 finale, SDSU gave up a 14-point first half lead and surrendered a Creighton run that forced overtime. The Jays outlasted the Aztecs in the extra session, winning 72-69. It was a loss that the Aztecs admittedly used as motivation this season, and will certainly add some fuel to tomorrow's showdown.
"Those are situations that you just grow from, and I believe that we've grown from that this year," San Diego State forward Keshad Johnson said. "Of course you want a revenge type game."
Their recent history also includes a lopsided 83-52 SDSU win, which came in the early stages of the Aztecs' historic 26-0 start. That season ended with one of the great what-ifs in program history, when COVID-19 wiped out an NCAA Tournament that would have featured Brian Dutcher's program as a one or two seed.
The run-ins have generated respect between the programs, which they both benefited from in November. Creighton and San Diego State split the cost of air travel to the Maui Invitational, sharing a plane to Hawaii and back. Dutcher and Jays head coach Greg McDermott spent each six-hour flight across the aisle from one another.
"I never thought we'd be playing them here or I would have tried to steal a few play calls off his computer," Dutcher joked Saturday.
"You have to have respect for each other if you're going to share a flight like that," McDermott added. "Obviously our teams and our coaching staffs have great respect for one another."
That respect stems in part from McDermott's long-time friendship with Dutcher's predecessor, San Diego State legend Steve Fisher.
The most well-documented bond between the squads is also the strongest: family.
San Diego State senior guard Adam Seiko is the older brother of Creighton starting forward Arthur Kaluma. Family members, including their mother Eva Sairo Ariko, took daily flights between Orlando and Denver to see Adam and Arthur play in the first two rounds of the tournament. After watching their teams win Friday, Eva will see her boys together on the floor again – with one reaching the final weekend of the college basketball season.
"It's a surreal experience," Kaluma said. "To be able to play against him in the Elite Eight is something amazing. I'm just happy my family gets to experience it."
LISTEN: With NBC 7 San Diego's Darnay Tripp and Derek Togerson behind the mic, On Friar will cover all things San Diego Padres. Interviews, analysis, behind-the-scenes...the ups, downs, and everything in between. Tap here to find On Friar wherever you listen to podcasts.