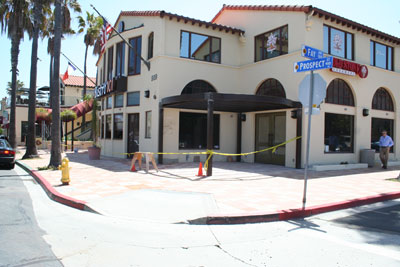 There's a fight brewing between a restaurant owner and the city of La Jolla over two feet of sidewalk.
The La Jolla Community Planning Association (LJCPA) board members have overwhelmingly denied a permit for a sidewalk cafe for Barfly/Aroma.
The restaurant, formerly Bistro 101 and Hard Rock Cafe at 909 Prospect Street, was originally planning to be open by the end of May, according to our media partners at the La Jolla Light.
Restaurant owner Oved Haskal wants an outdoor dining area for his new sports bar and bakery.
Unfortunately, the new are would leave less sidewalk clearance than what is required in the La Jolla Planned District Ordinance (PDO).
The ordinance requires eight feet of clearance on the sidewalk for an outdoor café.
Haskal's proposal, which was given a permit by the city, calls for six feet of clearance on a portion of its space.
The LJCPA is not happy and will appeal the city's granting of a permit.
"Why aren't you going after everybody who has less than 8 feet of sidewalk clearance?" Haskal asked at a recent LJCPA board meeting. "Why do you have to kill La Jolla business?"
The issue will be heard by the city Planning Commission.