Parking along downtown San Diego's busy Fifth Avenue has changed, converting into a "3-Minute Loading Zone" rather than a place to park your wheels for a while.
The Gaslamp Quarter Association, along with San Diego City Councilman Todd Gloria and San Diego Police Department (SDPD) Capt. Charles Kaye, outlined the parking changes during a news conference Thursday morning.
The changes are aimed at improving traffic flow, easing congestion and improving pedestrian safety and accessibility in the bustling downtown area.
The plan converts street parking on Fifth Avenue – from Broadway to Harbor Drive – into a 3-minute "Passenger Loading Zone" area every Friday and Saturday, from 8 p.m. to 3 a.m., similar to the loading zones currently in place at the San Diego International Airport.
Before this change, there was metered parking in the area from 10 a.m. to 8 p.m. and free, open parking every night from 8 p.m. to 10 a.m.
The two-year-long pilot parking program – approved by the San Diego City Council this past June – officially went into effect Friday night and will run through Aug. 30, 2018.
The Gaslamp Quarter Association says this "traffic management plan" has been implemented for the past several years in the heart of downtown San Diego during major events and holidays, including Halloween and New Year's Eve.
In a press release, Gloria said the removal of longer term parking along Fifth Avenue during weekend evenings is expected to "significantly increase pedestrian safety and improve emergency vehicle access in the Gaslamp Quarter."
"Anyone who has been in the Gaslamp on a Saturday night knows that the current configuration of backed up traffic and patrons being dropped off is untenable, so I applaud the community for working on this creative solution to improve access to San Diego's premier entertainment district," Gloria added.
Those behind the program also said the change will allow "increased visibility" in the busy area for law enforcement. The San Diego Police Department backs the plan.
With no parking option on Fifth Avenue on those nights, supporters believe less vehicles will circulate the street, too.
The Gaslamp Quarter Association also said the change will promote alternate modes of transportation into downtown, including public transit, rideshare services, taxis and the new Free Ride Everywhere Downtown Shuttle, also known as FRED.
The association hopes this means more business for small shops and eateries in the area, too.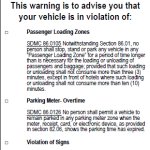 Signs installed throughout the Gaslamp Quarter will notify drivers to the changes in parking. Those signs may be seen on smart meters or posts along Fifth Avenue.
The association and Gloria said a "grace period" will be in effect through Sept. 30, while people learn about the new loading zone area. During this period, cars that park on Fifth Avenue after 8 p.m. will receive a notice of violation with details about the changes rather than a citation.
After Sept. 30, violators of the new rule will be towed.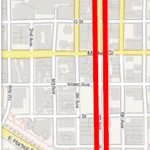 "We also know this is a big change and don't want anyone to be caught off guard, so the City will be issuing notices to vehicles for the first three weeks of the program to phase in its enforcement," Gloria explained.
On Friday night, some visitors to the Gaslamp Quarter were still unaware of the changes to parking along Fifth Avenue and received a warning from the City on their cars.
This included Fadi Quago, who came back to his vehicle to find the warning notice. Quago was not happy about the changes to parking in the area.
"I think it's a bad idea to make this decision," Quago told NBC 7. "I would park on 5th avenue. That's the closest way to go close to the bar, restaurant or wherever."
Gaslamp visitor Mickey Strand agreed with Quago and said he's also not thrilled about the change.
"I come down almost every Friday night and patron. I spend money at one of these businesses down this run. I might find other places to hang out," Strand told NBC 7.
On the first night of the parking changes, enforcement officials went door-to-door at Gaslamp Quarter businesses to remind patrons of the new rule.
Some employees who work downtown said the new parking rule makes sense, especially in terms of making the busy street more accessible to emergency responders.
"I think they can get through traffic easier that way, because it does get congested and if they can get that traffic moving it will be a faster response time for them," Saskia Bende, a general manager at the Lucky Brand store downtown, told NBC 7.
Jeff Kiyama, assistant general manager of popular restaurant BarleyMash on Fifth Avenue, also said he welcomes the parking changes. He has a front row seat to the weekend night gridlock in the Gaslamp Quarter.
"When traffic is stopped people tend to run across the street as long as traffic is free flowing, traffic will go, cars will go. [This will] be a better flow of traffic and people," Kiyama said.
However, not all of those who work downtown see the change as positive. Charise Crawford works on Fifth Avenue and said the changes will "ruin our lives."
She said the new rules forced her to use a ridesharing company to get to work Friday night because there's no longer free parking after 8 p.m. on weekends.
"We can't do that anymore so as employees of Gaslamp we have to figure something else out. To pay $20 to work is absurd," she told NBC 7.
The Gaslamp Quarter Association said existing valet stands and taxis along Fifth Avenue will not be affected by the change.
If the two-year pilot parking program works out, the City and association will re-evaluate to see if the changes will be made permanent.
For more info about parking in downtown San Diego's Gaslamp Quarter, click here.
Free or Cheap Things to Do in San Diego