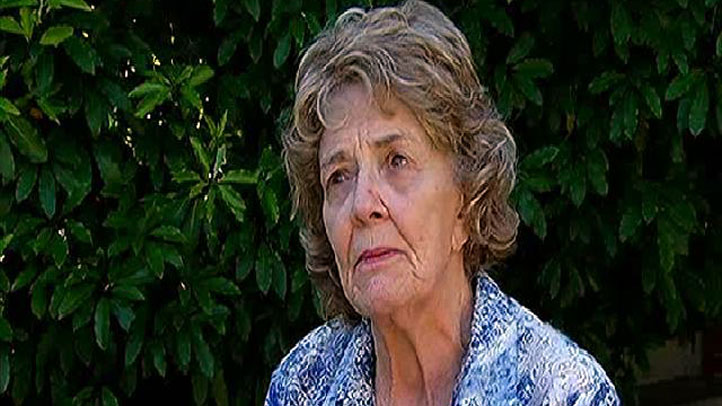 Sharlotte Hydorn, the San Diego County woman who sells so-called suicide kits out of her home, describes a federal raid on her home earlier this week and explains that she just wants to give terminally ill patients the chance to die at home peacefully.
"You can embarrass me and say that I'm murderous and I'm making suicide kits and I'm killing people," Hydron said Thursday from the yard of her home in unincorporated El Cajon. "Good luck to you in your last days, honey."
On Wednesday, federal agents served this search warrant at Hydorn's home and seized materials used to make so-called suicide kits that she began marketing in 2002.
The 91-year old widow said agents with guns served a warrant Wednesday and searched the home for evidence in the investigation of mail fraud, wire fraud, tax evasion, the sale of adulterated material and mis-branded medical devices.
Agents took several computers, letters and other paperwork and a special sewing machine Hydorn said.
"They just scooped it all up – the tubing and everything," she said.
"It was just a very bad day. I had fear in my heart the whole time," she said. "It left me pretty wrecked."
Hydorn admits she does owe some taxes but maintains she does not run a business. The kits, she says, give terminally ill patients a chance to die at home peacefully.
Hydorn sells the kits for $60 a piece to people all over the world. A few months ago though, Oregon resident Nick Klonoski purchased a kit and used it.
Family members say Klonoski was a healthy 29-year-old man, who suffered from depression.
"I don't assume any responsibility for his death," she said. "I am very sorry to the mom and the father and all that."
Each contains a plastic bag that fits over a head with connecting tubes that can be attached to a helium gas tank. The user eventually dies from a lack of oxygen.
"It's not painful," she explained. "They're not suffocating."
When asked if she thinks of herself as a female Dr. Jack Kevorkian, she became very upset.
"I think, sir, that is the wrong question to ask me!" she said.
Hydorn described watching her husband Rex die slowly and painfully from colon cancer in a hospital room in 1977.
"He said one word and pointed at the door," she said. "Home, home, home.'"
Hydorn maintains that she is only a tool provider. She says she isn't doing anything wrong.
"If I can change the sad way in which people die," she said. "If I can change the way people I die, I'll do it."
Let us know what you think. Comment below, send us your thoughts via Twitter @nbcsandiego or add your comment to our Facebook page.