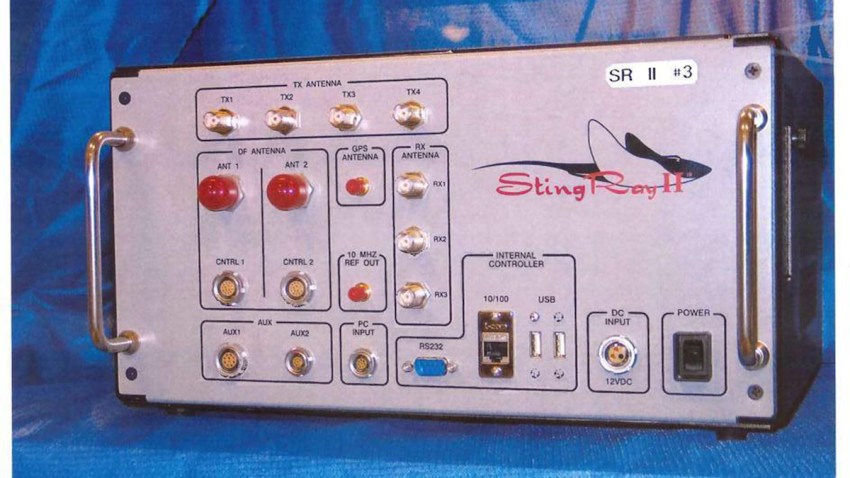 The federal government has joined the San Diego Police Department and the city of San Diego in arguing certain information about the use of "stingray" technology shouldn't be provided to the public.
"Although the United States is not a party to this case, it has a direct interest in the protection of the information withheld by the SDPD," Department of Justice Attorney Marcia Sowles said, according to a "Statement of Interest" filed by the DOJ on behalf of the federal government.
At the center of the argument is the stingray, a technology which allows law enforcement agencies like the SDPD to create fake cell sites that mimic cellphone towers, allowing police to capture information transmitted over the cell system.

The First Amendment Coalition of California is trying to compel the SDPD to provide more information about how the agency uses the stingray technology. The filing is the latest maneuver in the running legal battle.
The SDPD has responded to California Open Records Act requests by the nonprofit with pages of redactions. Local court hearings have sided with the department on the disclosure issues. The case is currently being heard by San Diego County Superior Judge Judith Hayes.
An invoice released to the coalition showed the city paid $365,000 for its stingray.
"In our society we don't allow our police to operate in total secrecy," the coalition's attorney, Kelly Aviles, told NBC 7. "That has been the case with this stingray technology. For a long time it operated without the public even knowing it was used."
On the other side of the argument is FBI Special Agent Bradley Morrison, a member of the agency's Tracking Technology Unit. In an affidavit accompanying the filing he said, "cell site simulator technology provides valuable assistance in support of important public safety objectives."
According to Morrison, the technology helps apprehend fugitives, provides information for complex drug investigations and can help lead to the rescue of kidnapped children. It's also an "important tool in the Federal Government's efforts to protect and defend the United States against terrorism and other threats to our national security," he said.
The filing from DOJ attorney Sowles also included reasons why the SDPD's information should be withheld, the primary one being because it is sensitive in nature. She said this includes the specifications and capabilities of the site simulator systems as well as the "techniques and tradecraft employed in operating cell site simulator equipment."
According to Sowles, the release of the information would allow "criminals and terrorists to piece together information about cell site simulators' use and capabilities and thereby develop methods to evade them."
Click here to read the "Statement of Interest of the United States."
Aviles said counter measures for the technology already exist, including a mobile app that alerts people when the simulator is being used and a cellphone case that blocks the simulators access.
Criminals are no doubt aware of these options, Aviles said.
"It's innocent citizens who aren't aware their information is being gathered," she said. "To insure we have adequate safeguards for people who are innocent and not the subject of criminal investigations, we have to be able to have information about the technology in order to have an intelligent debate about the technology."
Also included in the DOJ filing is a reference to a non-disclosure agreement with the FBI, signed by the SDPD. Without this agreement, Sowles said, the department could not buy the simulator equipment.

Part of that agreement includes this section:
"The San Diego Police Department will, at the request of the FBI, seek dismissal of the case in lieu of using or providing, or allowing others to use or provide, any information concerning the Harris Corporation wireless collection equipment/technology, its associated software, operating manuals and any related documentation (beyond the evidentiary results obtained through the use of the equipment/technology), if using or providing such information would potentially or actually compromise the equipment/technology. This point supposes that the agency has some control or influence over the prosecutorial process. Where such is not the case, or is limited so as to be inconsequential, it is the FBI's expectation that the law enforcement agency identify the applicable prosecuting agency, or agencies, for inclusion in this agreement."