Scattered showers lingered across San Diego County Saturday after the brunt of a powerful storm swept Southern California Friday evening and overnight.
NBC 7 Meteorologist Jodi Kodesh said Saturday began with light, scattered showers at the tip of San Diego's mountains. Scattered rain was expected to persist throughout the day.
The good news is, the winds -- which were very strong Friday, causing damage across the county -- had died down by Saturday morning.
[G] February 2017 Storm Damage
"[Today will be] nothing like what we saw yesterday and last night," Kodesh explained, adding that the heavy rain is now being pushed east of San Diego.
Kodesh said a pocket of air to the north of San Diego will keep things cool Saturday and bring light showers down the coastline.
"This air pocket is why the chance of rain continues today," she added. "But the wind will not play a role today."
"Take your coat, take your umbrella, put on a smile," said Kodesh. "We're finally through with the hardest part of yesterday's storm."
Kodesh said there is a slight chance of thunderstorms in the county through 3 p.m. If you hear thunder, head indoors.
On Saturday, the NWS said a flash flood watch was in effect for San Diego County through Saturday afternoon in coastal areas, valleys, mountains and deserts. According to the NWS, the following communities were included in this alert: Oceanside; Vista; Carlsbad; Encinitas; Chula Vista; National City; San Diego; Escondido; San Marcos; El Cajon; La Mesa; Santee; Poway; Julian; Pine Valley; Borrego Springs.
Friday evening brought intense, heavy rainfall, strong winds and high surf to San Diego. With the storm, came a bevy of weather warnings issued for the county.
The National Weather Service (NWS) issued a high surf warning through 10 p.m. Sunday. Along the San Diego coast, potentially damaging surf is expected Saturday afternoon through Sunday morning. Waves could reach 10 to 15 feet; The highest tides were expected at 2:10 a.m. Saturday and 3:25 a.m. Sunday.
Not only will there be the potential for damage to piers and other structures along the coast but the waves will top jetties and other rocks. Anyone going to the coast to take a look should be aware of the potential to be swept out into the water.
The County of San Diego Department of Environmental Health (DEH) issued a General Advisory for the coastal waters of San Diego County due to the rainfall. Swimmers, surfers and others are warned that urban runoff that goes into ocean and bay waters, especially near storm drains, creeks, rivers, and lagoon outlets may have high levels of bacteria.
On Saturday, the DEH said a water contact closure was in effect for these shorelines: the Tijuana Slough National Wildlife Refuge; Imperial Beach; Silver Strand. To get updates on beach closures, call this 24-hour hotline at (619) 338-2073.
Due to the winds Friday, communities experienced damage to trees and power lines, and power outages.
Cleaning Up the Aftermath
On Saturday, crews were busy across the county cleaning up the aftermath of the storm.
In Encinitas, residents of the Pacific Pines apartment complex dealt with major cleanup after strong winds caused a tree to topple onto their building. A gas line was ruptured and residents were told to evacuate. Fortunately, no one was hurt in this incident.
Krista Dwyer, who lives at the complex, spoke with NBC 7 Saturday morning and said there are many pine trees around the building and residents feared another one could fall.
Marcy Harold, also lives at Pacific Pines. When the tree toppled, it fell onto her balcony. She was grateful that she wasn't hurt in the incident.
"That was pretty lucky for me," Harold said.
She said it's sad to see old, historic pine trees fall.
"I think it's unfortunate and I think it's sad, because the trees are a big part of this community – they are 100 year old historic pine trees. I think this is a statement on our local drought issue, so I think [this] is a big message about the environment. We need to pay closer attention," she added.
In Scripps Ranch, a crew spent much of the morning removing a 120-foot-tall tree that had fallen through two homes, creating a huge hole in the roofs.
Part of that tree fell on top of Sarah Schneewind's home. She has lived there since 2005. On Friday, while she was at work, her husband called to tell her the tree had toppled onto their house.
Schneewind said her neighbor thought they home and came over to check on her and her husband.
"I was really grateful for that. He called the cops, so by the time my husband got back from the grocery store the firemen were already here, checking out making sure nobody was hurt," she told NBC 7.
Schneewind works in the history department at UC San Diego. She said this incident reminded her of what's important: that no one was hurt.
"I teach Chinese history, and when Confucius came home one day he was told, 'The stables burned down!' and what he asked was, 'Was anyone hurt?' He did not ask about the horses, which of course were just property. So, that's what we got to focus on; nobody got hurt," she added.
Schneewind said she had been worried about that tree falling.
"I sit out back a lot, I love it and I'm looking at this big tree and I know it's going to fall. I know it's going to fall – just a question of when. That's what these trees do, they fall. They get full of water, and then a big wind comes," she said.
Scripps Ranch is also a community that's known for its trees, and Schneewind said dangers like this come with the territory.
"I believe in having trees in the neighborhood, I think that makes our neighborhood what it is and having them fall is a part of the risk that comes along with that," she explained. "My view is that when a tree comes out, for whatever reason, because it's unsafe, you got to put in another tree. It doesn't have to go in the exact same place but you got to keep the trees up. That's our job as stewards for our future and the next generation."
"We just heard this big crack and that was the tree breaking over there," Martin Finchman, who lost power in Normal Heights overnight Friday, tells NBC 7. "It started raining just a bit earlier . We watched the pole come down , saw the sky just light up, big flash of light as the transformer hit the ground over there. Instantly the power just went out."
Meanwhile, Caltrans crews repaired a sinkhole that had formed in a bike lane on State Route 54 (Jamacha Road) and Brabham Street.
The San Diego Police Department (SDPD) said flooding had caused some road closures around the county. Police released this updated list of road closures at 1 p.m. Saturday.
SDPD Chief Shelley Zimmerman said she was proud to see the city pulling together during the storm.
"While working the storm last night, I saw neighbors helping neighbors and strangers helping strangers," Zimmerman said.
Two people were killed at the height of Friday's storm, both in crashes on Interstate 15. In one crash, a woman was killed and her husband was injured in a multi-car collision on southbound I-15 at Mira Mesa Boulevard. In the other accident, on northbound I-15 just north of Interstate 805, one person was killed.
Meanwhile, the San Diego Metropolitan Transit System (MTS) said Friday that heavy rain, flooding or storm damage could potentially impact bus and trolley operations over the weekend – plus special service planned for the Monster Jam show this weekend in downtown San Diego. MTS advised passengers to plan ahead and prepare for delays.
StormRanger 7 will be driving around San Diego County today to help provide the most cutting-edge technology in our storm coverage.
The mobile radar truck is a one-of-a-kind vehicle that has a live, high-powered radar that enables NBC 7 to get out ahead of a storm.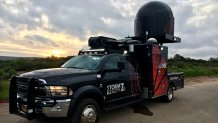 Download the NBC 7 app for access to StormRanger 7 radar.
Copyright AP - Associated Press