Federal and local law enforcement officers fanned out across San Diego early Wednesday to conduct a large-scale raid on an alleged illegal gambling ring, leading to the indictment of nearly 50 people and the seizure of hundreds of gambling machines.
Starting in the overnight hours, two dozen locations were targeted -- mostly illegal gambling dens in East San Diego neighborhoods -- in the massive operation involving about 450 law enforcement officers with the FBI, U.S. Homeland Security and the San Diego Police Department that began in the overnight hours.
The U.S. Attorney's Office said the gambling establishments are closely tied to gangs drugs and violence in San Diego neighborhoods. An investigation into the illicit activity has been ongoing for two years.
"These gambling dens were not only host to illegal gambling, but a hub for a variety of other criminal activity to include drug trafficking and unlawful possession of firearms," FBI Special Agent in Charge Suzanne Turner said.
At various sites, dozens of patrol cars and large evidence vans could be seen as law enforcement officers searched homes and businesses allegedly connected to the ring.
Video footage from one operation showed dozens of heavily armed authorities enter a City Heights home near the intersection of Orange and Copeland Avenues sometime around midnight. It was one of at least five locations that were raided overnight.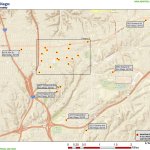 Flashbangs and K-9 units were seen being used at the scene and at least two dozen people were spotted outside the home.
Another video from the scene showed federal authorities confiscating several slot machines and loading them into an evidence van.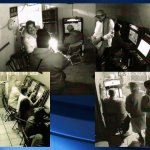 The raids netted 35 arrests, and led to the seizure of 640 gambling machines, 44 firearms, 12 pounds of methamphetamine and $263,000 in cash, according to the U.S. Attorney's Office.
According to the grand jury indictment, the illegal gambling dens were often located inside small businesses, houses or apartments in residential neighborhoods, many in City Heights. Inside the dens, patrons would use electronic gambling machines but the main draw was buying and selling methamphetamine, the indictment said.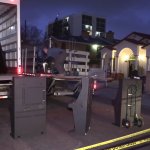 Acting U.S. Attorney Randy Grossman called them "magnets for crime."
"We have taken down the illegal gambling dens, and we have lifted a weight off our neighborhoods," Grossman said.
Of those arrested, 15 were part of the 47 people indicted by a federal grand jury on various charges connected to the illegal gambling operations, such as conspiracy, operating illegal gambling businesses, possession of drugs with intent to distribute and more.
More than 30 others are fugitives wanted by the U.S.