Since his son, Christopher, was killed during a shooting rampage in Isla Vista, California, a year ago Saturday, Richard Martinez has upended his life to advocate for gun control.
The former criminal defense lawyer who once gave little thought to the number of people shot in the United States now cares only about making sure others do not die as his 20-year-old son did.
"I feel a sense of urgency," he said this week. "I feel like the longer it takes us to get these things done, the more people are going to die for no good reason. It's that important. So for me, this is a matter of life and death."
Martinez is a senior outreach associate for Everytown for Gun Safety, a gun control advocacy group. He has traveled the country asking voters to back candidates in favor of what the group calls common-sense gun legislation. He worked to get gun control measures passed in California and Washington and to turn back other bills in Florida.
[[260529701, C]]
"The level of gun violence in this country is appalling," he said. "We have lock-down drills now in elementary schools and we regard that as normal. When I was growing up in the '50s and '60s in this country, no little kid ever thought of being shot and killed in their elementary school."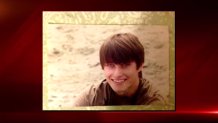 Christopher Ross Michaels-Martinez, a student at the University of California at Santa Barbara, was gunned down at a deli near the campus on May 23, 2014 when a troubled 22-year-old student of a local community college went on a shooting spree.
Elliot Rodger had three guns in his BMW, a Glock 34 and two SIG Saur P226s. Firing out the window, he killed three people and injured seven others. He injured another seven people by driving over them with the car. Just before the shooting rampage, he killed three others at his apartment, stabbing to death two roommates and a guest.
Rodger, whose father, Peter, was an assistant director of the "The Hunger Games," had earlier been visited by deputies from the Santa Barbara County Sheriff's Office because his mother was worried. But the deputies failed to search his room or find his guns and left convinced of a misunderstanding.
Martinez's activism began immediately after the shootings, at a sheriff's office news conference where he emotionally denounced "craven, irresponsible politicians and the NRA." At his son's memorial he challenged the mourners to send postcards to their political representatives with what was becoming his mantra, "Not One More."
Afterward, Everytown for Gun Safety approached him about delivering some of the 2.4 million postcards created in response and he did. He hand-delivered postcards to Florida Gov. Rick Scott, a strong supporter of gun rights, and to U.S. Rep. Marco Rubio, who opposed some gun control measures as ineffective and infringing on the constitutional right to bear arms.
[LA GALLERY]Remembering Victims of the Isla Vista Rampage
He's been working full-time for Everytown for Gun Safety ever since.
"Mr. Martinez said he never expected this could happen to his family -- but gun violence can, and does, happen in every town," said Shannon Watts, the founder of Moms Demand Action for Gun Sense in America, which merged with Mayors Against Illegal Guns to create Everytown for Gun Safety last year.
The National Rifle Association did not immediately respond to a request for comment.
Martinez, 62, grew up on a farm in an extended family that hunted, and he served in the U.S. Army as a military police office in Heidelberg in what was then West Germany. Before his son was killed, he said he paid no attention to debates over gun control — not when 20 children were massacred at the Sandy Hook Elementary School in Newtown, Connecticut, nor when some of their parents pleaded unsuccessfully with the U.S. Congress to pass an expansion of background checks for firearms purchases.
"I blamed craven politicians," he said. "The fact is I'm responsible too. I didn't do anything."
Everytown for Gun Safety has turned its attention to the states. In November, Washington voters approved universal background checks for gun buyers -- a law the NRA said would be ineffective. After the Isla Vista shootings, the California lawmakers approved allowing families to ask a judge to remove firearms temporarily from a relative who appears to pose a threat.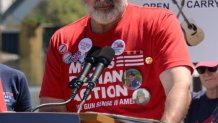 Martinez said he would never know whether the new legislation could have made a difference in his son's death.
"But it's a new tool that wasn't available to families or law enforcement before," he said. "And it's something that can save lives because we need to do a better job in this country about keeping guns out of the hands of dangerous people and that means felons, domestic abusers and people who are mentally unstable."
No laws will protect everyone all the time, but gun controls can make Americans safer, Martinez said, just as seat belts, air bags and other measures cut the number of deaths from automobile accidents. There is no single answer to gun violence, but many, and they will make a difference over time, he said.
On average 32,514 people die from gun violence in the United States each year, according to the Brady Campaign to Prevent Gun Violence.
"Why is it we have to accept such a high level of gun violence?" Martinez asked. "It's not necessary. These things are preventable. There are solutions."
The NRA in the 1950s and 1960s was a far different organization than it is today -- civic minded and safety conscious, he said.
"Their attitude towards gun safety was far different in that time period than it is now," he said. "They need to get back to their traditional values."
His son, whom he described as funny, kind, generous and gentle, was competitive in academics and athletics and wanted to follow his parents into law. His mother, Caryn Michaels, is a deputy district attorney in San Luis Obispo.
"He just enjoyed life," Richard Martinez said. "He was just an absolutely terrific kid."
Martinez himself has not been back in the courtroom since his son died. What is important to him now is trying to save the lives of other young people.
"That's why I get up in the morning," he said. "Otherwise -- my son was the center of my life. He meant everything to me."