Two minutes. Ten suspects. One high-end heist involving a half-million dollars-worth of stolen luxury items. That's the case the San Diego Police Department (SDPD) is trying to crack.
On Sunday, just before 4:20 a.m., three vehicles pulled up to the north entrance at Fashion Valley Mall on Friars Road. According to investigators, 10 suspects – all wearing hooded sweatshirts and gloves – got out of the cars and quickly made their way to the Hermes De Paris store.
Using a pry bar, the group forced their way into the high-end retailer. Within two minutes, SDPD investigators said the group stole many items including pricey purses, jewelry and clothing. The store lost more than $500,000 in the burglary.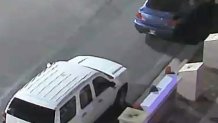 Three days later, the suspects remained at large. The SDPD released three surveillance photos of the suspects' vehicles in hopes of tracking down leads. Police said the suspects might be connected to a series of burglaries at high-end stores in California.
At this point, there are no descriptions of the suspects. The SDPD said the three vehicles each had paper license plates and are described as a Chevy Suburban and two blue sedans, possibly import brands.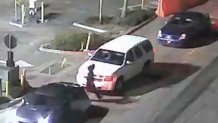 On Tuesday, the Hermes de Paris store inside the mall was closed. A sign posted on the door read, "Temporarily closed. Sorry for the inconvenience." Security could be seen around the retailer.
The Hermes San Diego store is normally open from 10 a.m. to 6 p.m. Thursday through Saturday, selling luxury goods from the famed French brand, Hermes. The brand is worn by many Hollywood celebrities. On Saturday mornings, customers can reserve a spot at this store for a "personalized shopping experience" that includes complimentary champagne, per the Hermes website.
The investigation is ongoing. Anyone with information can call the SDPD's Western Division at (619) 692-4800 or Crime Stoppers at (888) 580-8477.